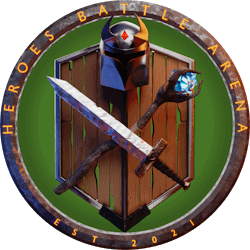 Heroes Battle Arena offers a strategic blockchain RPG with in-game NFT integration, a user-friendly marketplace, and innovative play-to-earn dynamics. Dive into a next-gen gaming realm!
Heroes Battle Arena (HBA) introduces a next-gen Play-to-Earn (P2E) strategic RPG built on blockchain technology with an integrated NFT marketplace. The game capitalizes on the potential of in-game and out-game NFTs and offers unique functionalities that promote user interaction and in-game purchases.
Core Features
Multichain Play-to-Earn:

HBA supports multi-chain functionality and offers zero start investments.

NFT Integration:

The game leverages in-game and out-game NFTs, which can have powers and additional abilities. This also allows integration of other projects into HBA.

NFT Marketplace:

Players can trade NFTs, enhancing the in-game economy.

Low Entry Barrier:

While many P2E games require a significant initial investment, HBA addresses this by offering free initial units and a cost-effective entry point.

Expanding Armies:

Players can purchase NFTs to expand their available army beyond the base 100 units.
Game Mechanics
Players connect their WEB3 wallet to begin.
Players have a balance of units (e.g., 300 units) which they use to form armies.
Battles are initiated against opponents with similar unit strength.
Players can incorporate extra elements like stones and superheroes into their battle strategies.
The game interface is divided into 5 zones for better organization of units and elements.
Battles occur automatically, but premium subscribers can actively control their units in battles.
The battle's outcome depends on a range of factors, including gods, stones, units, and magic levels.
Rewards
Post-battle, players receive rewards and random stones, irrespective of the battle outcome.
The rewards are derived from the total value of the participating armies.
HBA Tokenomics
Total tokens: 300,000,000
Treasury:

70,500,000 (23.5%) - For partnerships, future updates, and features.

Liquidity:

15,000,000 (5%) - To facilitate liquidity mining and pairing.

SCO Nuls:

15,000,000 (5%) - Incentives for staking in the Nuls SCO platform.

Team:

36,750,000 (12.25%) - Locked for 1 year post-ICO.

ICO:

72,750,000 (24.25%) - Several rounds

Investors & Advisors:

15,000,000 (5%) - Locked for 1 year post-ICO.

In-game economy:

60,000,000 (20%) - For community programs.

Strategic Reserve:

15,000,000 (5%).
HBA stands out in the blockchain gaming ecosystem due to its strategic gameplay, NFT integration, and tokenomics that ensure both player rewards and game development. With its multichain support, low entry barriers, and play-to-earn model, it has the potential to redefine the P2E gaming landscape.