Wert: Streamlining Crypto Transactions for Partners and Users
Wert.io & Web3StrongerTogether.com. 1st Virtual Summit March 1-4, 2023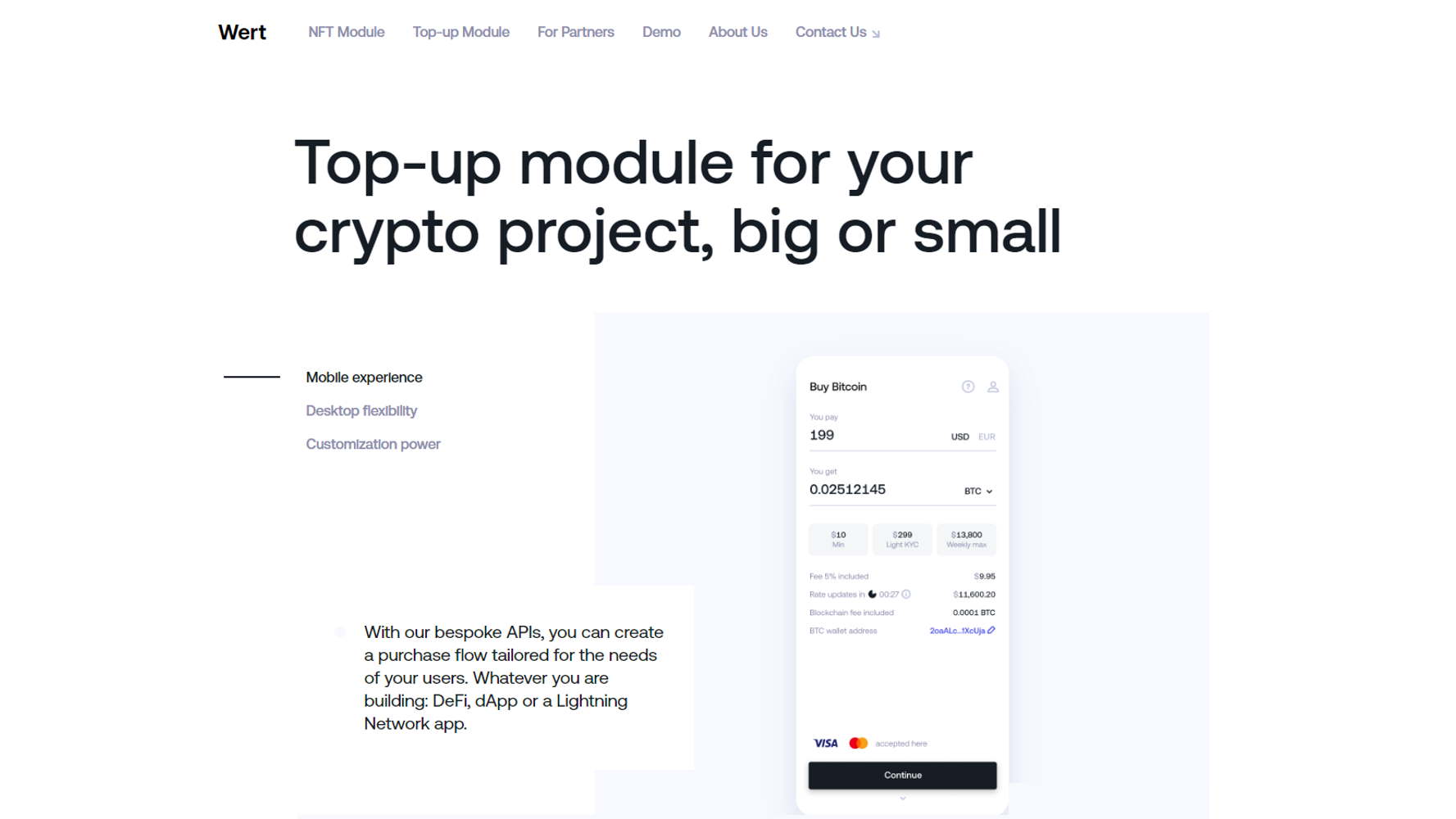 A Look at Wert's Top-Up and NFT Modules, Features, and Global Coverage. As a licensed virtual currency provider, Wert's participation in the Web3ST initiative demonstrates its commitment to advancing the Web3 ecosystem and making crypto transactions easy and accessible for partners and users. With its top-up and NFT modules, bespoke APIs, and customization power, Wert helps businesses create a purchase flow tailored to the needs of their users.
Top-Up Module: Convenient and Customizable
Wert's top-up module is designed to look and feel like a natural extension of your app. It comes with features like mobile login, easy adjustment of transaction amounts, and tooltips for every unique element. You can also fully transform the appearance of the module to match your brand perfectly so that your users will feel like they are buying crypto from your website or app.
NFT Module: Partnership with Feal App
Wert has partnered with Feal App to allow brands and retailers to buy crypto-assets simply with a credit card. This collaboration provides a smooth user experience that makes NFTs even more accessible to the public.
Customization Power: Features for Business Logic and UX
With Wert's bespoke APIs, businesses can create a purchase flow that matches their specific needs, whether they are building DeFi, dApps, or Lightning Network apps. Wert provides complete transparency with a dashboard and API tools that let businesses track their performance and adapt their business logic to their needs.
Global Coverage and Agil KYC
Wert's top-up module supports users from almost 200 countries, making it a truly global platform. The platform also uses an agile KYC process that adapts to each user's risk level, making the legal procedure faster and less irksome.
No Unfair Advantage or Conflicts of Interest
Wert operates on the principle of fairness, which means that it will never poach a partner's clients. Moreover, the platform offers the best exchange rate for its partners and users and has no hidden fees or commissions.
Operating License, Legal Documents, and Backing
Wert is a licensed virtual currency provider and is regulated by relevant authorities in Estonia and the USA. It operates from offices in Tallinn and Wilmington, Delaware. The platform also has MSB registration (FinCEN) and is backed by Startup Estonia.
Stay connected with the Web3 Stronger Together ecosystem and don't miss the first Web3 Vitual Summit on Evveland Metaverse:
🌐 Website:
https://www.web3strongertogether.com/
💼 LinkedIn:
https://www.linkedin.com/company/web3strongertogether/about/
🐦 Twitter:
https://twitter.com/Web3ST
💬 Telegram:
https://t.me/Challenge_Tron_sTRONgerTogether
📷 Instagram:
https://www.instagram.com/web3strongertogether/
Learn more about Wert:
🌐 Website:
https://wert.io/
🐦 Twitter:
https://twitter.com/wert_io
💬 Discord:
https://discord.gg/ypfmdTPVhb
👼 AngelList:
https://angel.co/company/wert