Launch of the sTRONger Together Challenge
The TRON community is launching a one-month challenge that will highlight the long-term vision of TRON projects. More than $10,000 will be airdropped overall, with daily challenges and rewards to support the community.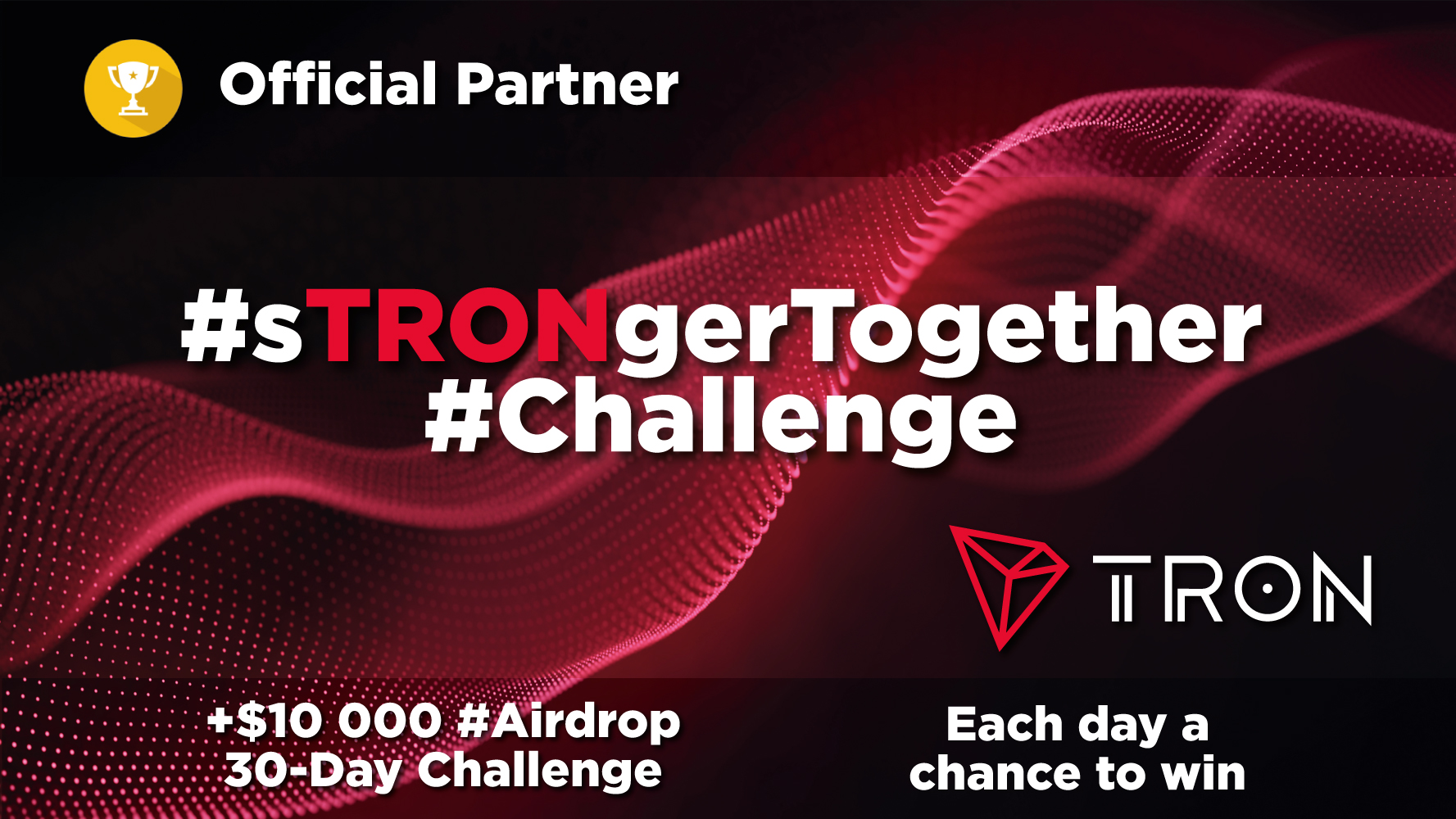 Goals of the sTRONger Together Challenge
The challenge is designed to demonstrate several key points around the TRON ecosystem.
Firstly, sTRONger Together will show the power of the "Together" effect, where everything is about community, communication, and support. Indeed, since the beginning of the TRON ecosystem, Tronics are highly committed and supportive, and this is a new occasion to demonstrate this motivation. sTROngerTogether is a testimony that projects help each other in the TRON ecosystem while sharing similar values, everything in the TRON community is about support, open-mind, and inclusiveness.
The second goal of the challenge is to
show the whole crypto industry how the TRON and BitTorrent ecosystems are strong. As TRON works perfectly from the beginning, and the ecosystem is one of the most active and creative in the crypto sphere. More than 35 projects and partners have already joined the sTRONger Together Challenge and more are coming. Lastly, this challenge demonstrates that, regardless of the market situation, being in a bull market, bear market, or a crypto winter, TRON OG projects are building constantly. The daily challenges will show that the community also shares this long-term vision.
How the sTRONger Together Challenge will work
The challenge begins Monday 15 of August when the first partner project will post on its social network a challenge for the community. Challenges will consist of interactions such as: like, follow, repost, use of #, share etc… Therefore, anyone with a Twitter account will be able to participate, with the opportunity to win a prize daily and the chance to learn more about TRON projects and the TRON ecosystem. Then, every day for at least 30 days, a different project will post on its social network and will continue the challenge. Communities from various projects are invited to participate and show that Together everything is possible. All the other projects will interact with the daily post in order to spread the challenge. Laurent Perello, Advisor at TRON DAO, is managing this challenge: "
It's vital to understand the difference between hype and long-term, TRON is not involved in a hype strategy but in a long-term vision and this changes everything. Acting TOGETHER should be our main priority."
#sTRONgerTogetherChallenge
is a community-driven project where cooperation is stronger than competition.
Join the official Channel Now:
https://t.me/Challenge_Tron_sTRONgerTogether
#sTRONgerTogetherChallenge Official Partners
4thTech
4thTech utilises Web3 to enable private communication with on-chain W2W E2EE dMail, dChat & data file exchange, which is curentlly non-existing in traditional Web2 applications. Behind the scenes, 4thTech enables any project to integrate the dMail & dChat layers into their platform UIs or wallets using SDK framework, while its multi-chain interoperability and deployment paves the way towards the first Web3 communication standard.
Adshares
Adshares is a Web3 protocol for programmatic ads and monetization of any space. Adshares ecosystem helps AdTech to adapt to blockchain with minimum effort. Adserver platforms allow users to rent space inside Metaverse, blockchain games, NFT exhibitions and websites. 👏
AhoyConnect
Community analytics platform for Web3/NFT communities 👯‍♂️
Allbridge
Allbridge Сore enables users to transfer stablecoins in a fast, cheap, and trustless way by providing a native bridge that connects EVM and non-EVM chains via decentralized cross-chain messaging protocols with an additional privacy layer. 🌉
APR Marketing
APR Marketing is a crypto marketing accelerator, focused on growing communities and converting awareness into engagement and investors. 📈We help companies develop a go-to-market strategy, shape a confident narrative and meet each project's marketing requirements.
Arabian Camels
The Arabian Camels is the original collection of 12,012 NFTs that dropped in May 2021. It was the first NFT project to conceptualize the merging of NFTs with the world of movies, offering utility where holders can get parts in the movie, producer credits or come on set with cast and crew. Now Introducing Phase 2 of the project, in addition to rolling out an international merch and brand strategy, the Camels are now launching 'The Antara Movie NFT' (aka Arabian Camels 2.0) so the community can also be part IP rights holders of the Antara movie.
BabyTuru
BabyTuru ($BBT) is the fun part of TuruGlobal it is the BitCoin of memetokens because of the low supply (1 billion)It is one of the few taxed tokens on TRON blockchain where every transaction is taxed and the tax is spread over all holders including the black hole wallet. This means you earn tokens by just holding and the token is deflationary.It is tightly connected to all NFT projects managed by TuruGlobal like BabyTuru NFT and AfticaStars as these all generate volume and transactions for $BBT.It has the circle of live where for every 1 million $BBT burned a new BabyTuru NFT is minted where 10% of its auction revenue is used to buy back and burn $BBT.The deflation and the growing community of TuruGlobal are almost ensuring a long term value increase through decreased supply and an increase in users.
Capitol Lion
Capitol Lion is an official LionX umbrella project. It's Main focus is to create a Decentralized Realm for Music NFTs Native to Tron Network. This economy of Music creation is SelfGoverned through the Capitol Lion Music DAO, Which are made up of Genesis NFT holders
Carpe Diem Savings
Bringing delayed gratification to external cryptocurrencies via a blockchain based Certificate of Deposit. 👈
CoinMarketLeague
Crypto portal with weekly rankings, Events Calendar, and Magazine.
Crypto Challengers
Crypto Challengers Is a Crypto Community and a Marketing Firm With Around 100k+ Crypto Enthusiasts And Investors Who Gathered Together With An Effort To Create A Healthy Crypto Community And Discuss The Trends And News Surrounding The Crypto And Blockchain Atmosphere. They announced itself as a BlockChain investment firm for users worldwide. The firm is mainly focusing on the mass adoption of Metaverse, Web3, NFT, GameFi, & DAO projects. We have a huge network of professionals and projects in the new innovative space. They can help people out with effective marketing methods & ideas! 💡
Crystl Finance
Crystl Finance is a Multi-chain Yield Aggregator which uses novel contracts to Automate & Maximize Earnings. Their innovative Ultra Farms allow you to stake LP tokens and earn dual rewards in Stable Coins & Blue Chips, with both automatic compounding of principal and interest earnings. Don't miss out on Maximized Passive Income!
Cubie
CUBIE is a community-driven NFT GameFi platform empowering users by rewarding them for their engagement and enjoyment. By using innovative tokenomics, utilizing finance and games.TronNFTmaker is a new product from Cubie Team it's a one stop service for all artist's and creators in bringing their dream art to blockchain.
dCloud
dCloud is a Web3 Cloud Storage Mobile App powered by BTFS
Deba's Wulf Pack
DWP is the first decentralised e-book on TRON Blockchain! #Web3 . Owning a #DWP gives users ownership of an original NFT, the e-book, resell rights and cash back options in NoleCrafts.
Elk Finance
Elk Finance is building Web3 infrastructure for cross-chain value and data transfer via ElkNet - our decentralized bridge.Elk Finance has developed a peer-to-peer network for cross-chain value transfers and blockchain interoperability in decentralized finance (DeFi). 💪ElkNet, the powerful engine at the heart of the network, allows for secure and efficient cross-chain transactions, reducing friction and asset fragmentation between blockchains. Community projects and developers are also able to build dynamic multi-chain applications that leverage ElkNet features such as proxy tokens and cross-chain messaging.
HUMAN Protocol
HUMAN Protocol facilitates the exchange of HUMAN work, knowledge, and contribution; our mission is to tokenize all work, putting it on-chain to make it securely verifiable and transactable. Applications built on HUMAN technology are already used by millions, to label data, protect against bots, and fuel business and market intelligence.
Indacoin
Fiat to Crypto payment gateway, a shortcut that allows users to buy your token directly from your website with Visa/MasterCard debit and credit. 💳
InterCrone World
Welcome to InterCrone! Join the coolest multichain swapping platform in the whole universe!
JustMoney
An ecosystem for the next generation of decentralized applications to power Web3 and DeFi 🏦
Kattana
Kattana is trustable a cross-chain trading terminal for DEXs and CEXs.Working with Trading Big Data, Kattana gives users the ability to trade in real-time on DEXs across multiple networks, including TRON, Ethereum, BSC, Polygon, HECO, Elrond, Fantom, and Avalanche.Up to 24 charts on one screen, unique limit orders, wallet analyzer, data analysis, and other innovative tools with the trading terminal of the future!Project website: https://kattana.io/
Legends of Elysium
Legends of Elysium is an innovative strategic P2E card game. Our goal is to build a thriving game ecosystem which gives players a perfect combination of challenging entertainment with earning opportunities. 👍
Our objectives are:1. Becoming the bridge between Gamers from traditional gaming industry and blockchain environment! It's Free to Play - No Entry Barrier.2. Enabling eSports to everyone! Currently, they are exclusively reserved for professional players, we are here to change that - get a ticket and compete in a fair test of your skills.3. Giving true ownership of in-game assets to the players! We give a choice to the gamers - if they wish to mint NFT, they can do so at any time.4. Delivering AAA quality game to the blockchain! We bring a highly entertaining game and enable monetization of players time - simply Play AND Earn.
MasterBlox
Masterblox is a Lisbon-based web 3.0 accelerator founded in 2021. Its work as an accelerator is splintered between the foundation, which handles all the connections between the partners and the projects, and the labs, where its growth hacking methods and support services are provided to the incubated projects. 🎯
Neotech Finance
Welcome to the Real Metaverse Exploring, building and monetizing with the first ever Real Metaverse platform built from the real world.#Metaverse #Gaming #GameFi.NeoTech is creating Metaverse and Smart City Digital Infrastructure that can lead to massive improvements in Metaverse user's adoption and experience or in citizens quality of life and increase the protection of the environment while reducing the cost of doing so. NeoTech uses cutting edge technology in both hardware and software to recreate a 1:1 exact replica of the Earth in utterly digital form, enabling thousands of new applications to be spun off on top of our new Real Metaverse, enabling startups, enterprises, and people alike to take part in this new technological revolution.
NFTmall
NFTmall - Pioneers of Multichain GameFi Infrastructure & Phygital NFT Commerce.We are building NFTmall as the #1 NFT ecosystem that provides a complete life cycle of NFTs. It starts from Minting, Dropping, Curation, Monetization, Various types of auctions, launching new NFT projects, INO platform, to ordering physical products in the real world from NFTs.A robust multi-chain NFT platform that empowers creativity. It allows NFT creators to have fun while earning. NFTmall is not just a marketplace but a community governed by its utility & governance token GEM.Our mission includes bridging the gap between digitized and real-world while allowing real-world use cases for NFTs by introducing revolutionary features like the NFT Materialisation service. Using NFTmall, anyone can mint, list & trade NFTs in a simple & cost-efficient manner. Thanks to its super-efficient smart contracts.We are a next-gen NFT marketplace & Launchpad for NFT creators, traders, and enthusiasts. Our platform is synergizing DeFi and e-commerce to achieve a fully autonomous and royalty-driven marketplace.NFTmall = Multichain NFT infrastructure provider + Powerful NFT API + NFT materialisation service + Launchpad.
RUA Games
Building the bridge between and web2 and web3 gaming. Raising awareness through organized Tournaments for web3 projects/communities. 🎯
RUA Legends
Discover the Romanian legends through our NFT collection. You get not only an NFT but also a character in our future RUA Legends web3 game. First character? Vlad Tepes aka Dracula.
SaTT
SaTT is a multichain/web 3 project, allowing anyone to monetize easily his community on all web 2 social media platform.
T-Rex Punks
T-Rex punks originals are a set of 448 NFTs that live in the T-Rex punk atmosphere. Established on Oct 30 2021.Project website: https://trexpunks.com (https://trexpunks.com/)/
ThanX Finance
A multi-brand, crypto cashback & reward platform, where users can earn up to 20% cryptoback when they shop online, travel or book hotels via our browser extension.
Tokenomeme
Tokenomeme dreams to reward every person on earth for collecting & sharing funny memes. This is the first multichain meme aggregator that redesigns meme culture for communities.
Tron Web3 Domains
🔥 REPLACE A CRYPTO ADDRESS WITH A DOMAIN NAME: In the past, whenever you sent crypto to another person, you needed their wallet address, which consists of a long string of letters and numbers. Today, all you need is a domain name, making it easier than ever to send and receive cryptocurrencies. It's security, privacy and safety.
🔥 ONE-TIME REGISTRATION FEE, NO RENEWAL FEES: Tron domains are not rented, after buying a Tron domain, it is yours forever, no one can request any renewal fees from you. Domains can be stored in your wallet, like cryptocurrency and only you can control it.
🔥 TRANSACTIONS WILL BE SIMPLIFIED: A crypto wallet address is made up of a series of random numbers and letters like "THtbMw6byXuiFhsRv1o1BQRtzvube9X1jx" that makes transfering cryptocurrency from one wallet to another more difficult. With a Tron domain, it becomes much easier when your friends can send you money to your domain address rather than copying lots of random numbers and letters.
🔥 GREATE FEATURES: Tron domains owners can build the domains as their own websites with full functions. They can set avatar picture, with a public profile, and they also can create unlimited subdomains, display their NFT collections in the gallery, and share their custom data records.
Tronbies
The first original 10k collection on Tron. Tronbies are post-apocalyptic space creatures from planet Tronbie. Our project will include NFT staking rewards, an NFT marketplace w/referral rewards, gamefi and future metaverse projects. $TBT, Tronbies Token powers the Tronbies ecosystem
TronNinjas
TronNinjas is a NFT GameFi project on the Tron blockchain where you are able to play arcade games and earn our in-game token TronNinjas Token (TNT).You can also stake your NFT and TNT.
Tronbakery
A brand new Tron news website & media partner!
USTX
USTX core is a TRC20 token with algorithmic reserve burning and minting: consistent growth, reduced drawdown! The ecosystem now offers a DEX, an inflationless stake pool, a voting and governance platform, UpFolio (a tool to help accounting user holdings), Teleport cross-chain bridge (Tron <-> BTTC <-> BSC <-> Cronos) and WARP, our entry for S2 hackathon. WARP offers the best APR on USDD single staking (over 30% currently).
VersacBrickSquad
VersacBrickSquad is providing permission-less fractionalized Real Estate ownership using the state of the art in crypto, NFT, DAO and community management.Buying a Brick NFT earns you tokens representing fractional ownership of a specific real estate property and grants you access to the DAO for that specific property. The DAO will jointly own and decide the future of the property.To buy the fractionalized ownership does not require KYC and after selling out all Bricks for a specific property they are tradable on secondary market and with that ensuring liquidity of a normally illiquid asset/.
Visions of Blockchain
Visions of Blockchain is the first digital AND printed magazine dedicated to people who make and people who use the Blockchain innovation. Sure we trust in the Blockchain disruptive innovation but But we consider it in an ethical way !
XDAO
XDAO is a fully customizable DAO builder for treasury management, multisig wallet and the platform for investment. 🚀