Kattana's Updated Trading Terminal: The Future of Blockchain Trading
Discover the latest features and improvements in Kattana's trading terminal, including a complete UI/UX redesign, wallet connectivity, powerful trading tools, and more.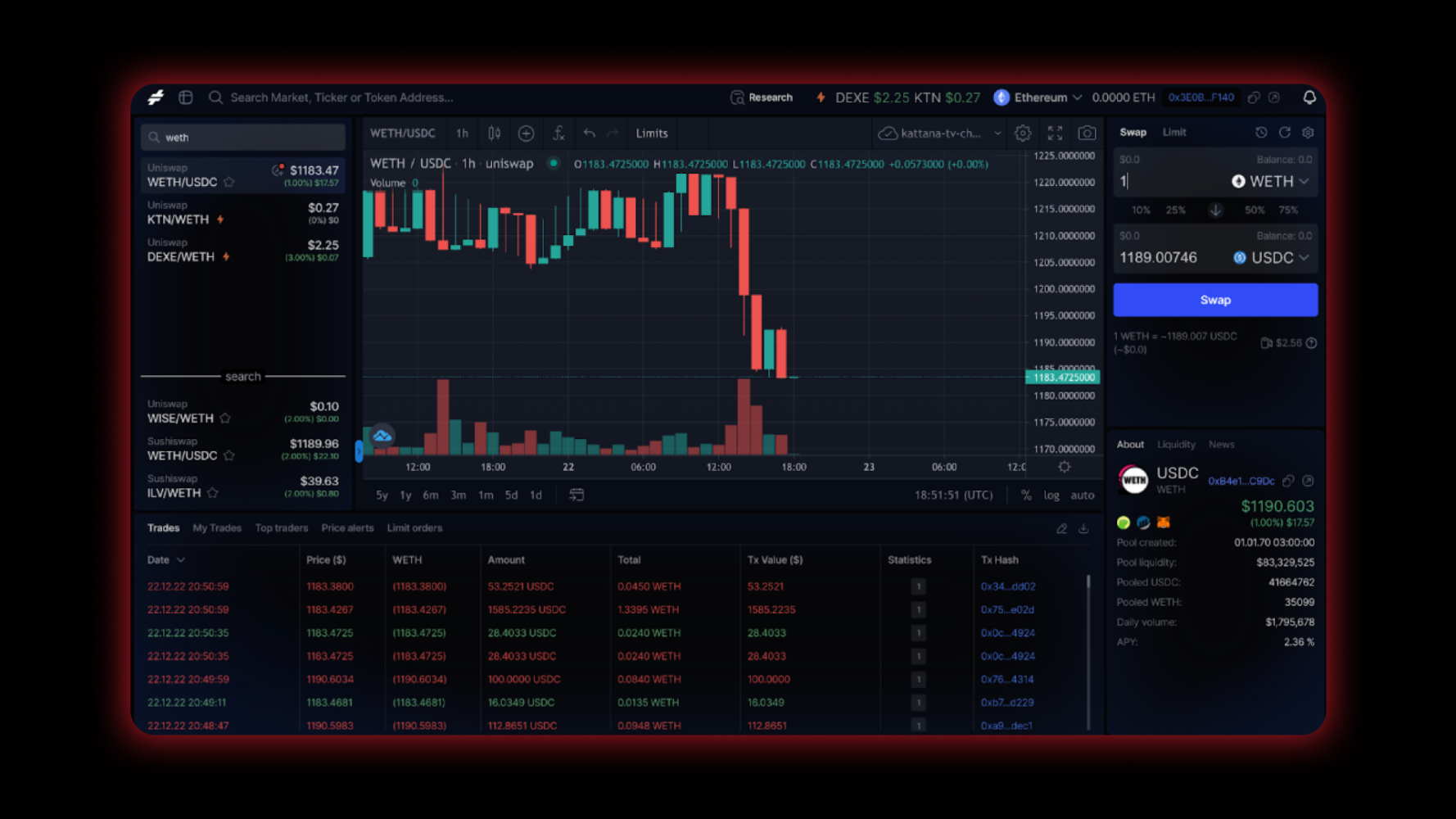 The blockchain industry has seen significant growth and development in recent years, with decentralized and non-custodial systems becoming increasingly popular among users. In response to this trend, Kattana has released an updated version of its trading terminal, which prioritizes freedom, customization, anonymity, and the absence of hidden commissions.
Kattana's New Look: A Complete UI/UX Redesign for Enhanced User Experience
One of the most notable updates in this release is the complete UI/UX redesign. This redesign provides users with a new, customizable experience, with dozens of new tools and features that allow for greater agility and attention to detail. Users can now set up their own personal workspace on any device, including laptops, tablets, and smartphones.
Another key feature is the ability to connect your preferred wallet by clicking on the "Wallet connect" button. This allows users to access a personalized version of Kattana, and ensures that all settings, including widgets, watchlists, and price alerts, are the same across different devices. Users can also connect as many wallets on different networks as they wish.
The Watchlist and quick navigation feature allows users to add trading pairs that they are interested in to their personal Watchlist, which can be navigated through using a global search or a simplified version of the global search. Users can also set price alerts for any pairs, ensuring they are always on top of opportunities.
Kattana's Recent Trades Feature: Livetime Analytics, Customization and More
The Recent trades or the most useful table feature includes livetime trades with several analytical tools, the ability to download trading history by pair with one click, and tools such as "My trades" on chosen pairs, Top Traders, and Limit orders. Additionally, users can customize the table to their liking by adjusting the size and columns.
The Token info, pair info, liquidity, and news sections provide users with all relevant statistics and useful links in a simple widget. The Swap and limit orders feature allows for powerful trading with two main algorithms, Overline and Stop limit. Users only need to deploy their personal proxy contract, top up the contract with tokens, and set a limit order, with gas fees only being incurred when the limit order is executed.
Other updates include the Notification center, Big Trades, Recent trading pairs, multicharts, social media sharing content, and dozens of other small updates. These features are now available at app.kattana.io and more updates are planned for the near future. Overall, Kattana's updated trading terminal represents a significant step forward in terms of speed, globality, and user experience, positioning it at the forefront of the blockchain industry.
Coinmarketleague Partners with Kattana to Elevate Trading Experience
Coinmarketleague is thrilled to announce that they are now using new Kattana's charts, widgets and API to enhance the experience for their users. The advanced analytical tools and customization options provided by Kattana's trading terminal Widgets have greatly improved experience of Coinmarketleague's. Coinmarketleague highly recommends Kattana's services!