Imperium, #TheCryptoIndex, Publishes Updated Roadmap Until Q4 2024
Imperium enters a new stage in its development, laying down new and updated milestones. These are clearer and more aligned to the company's business strategy and to the overall current landscape of the crypto space.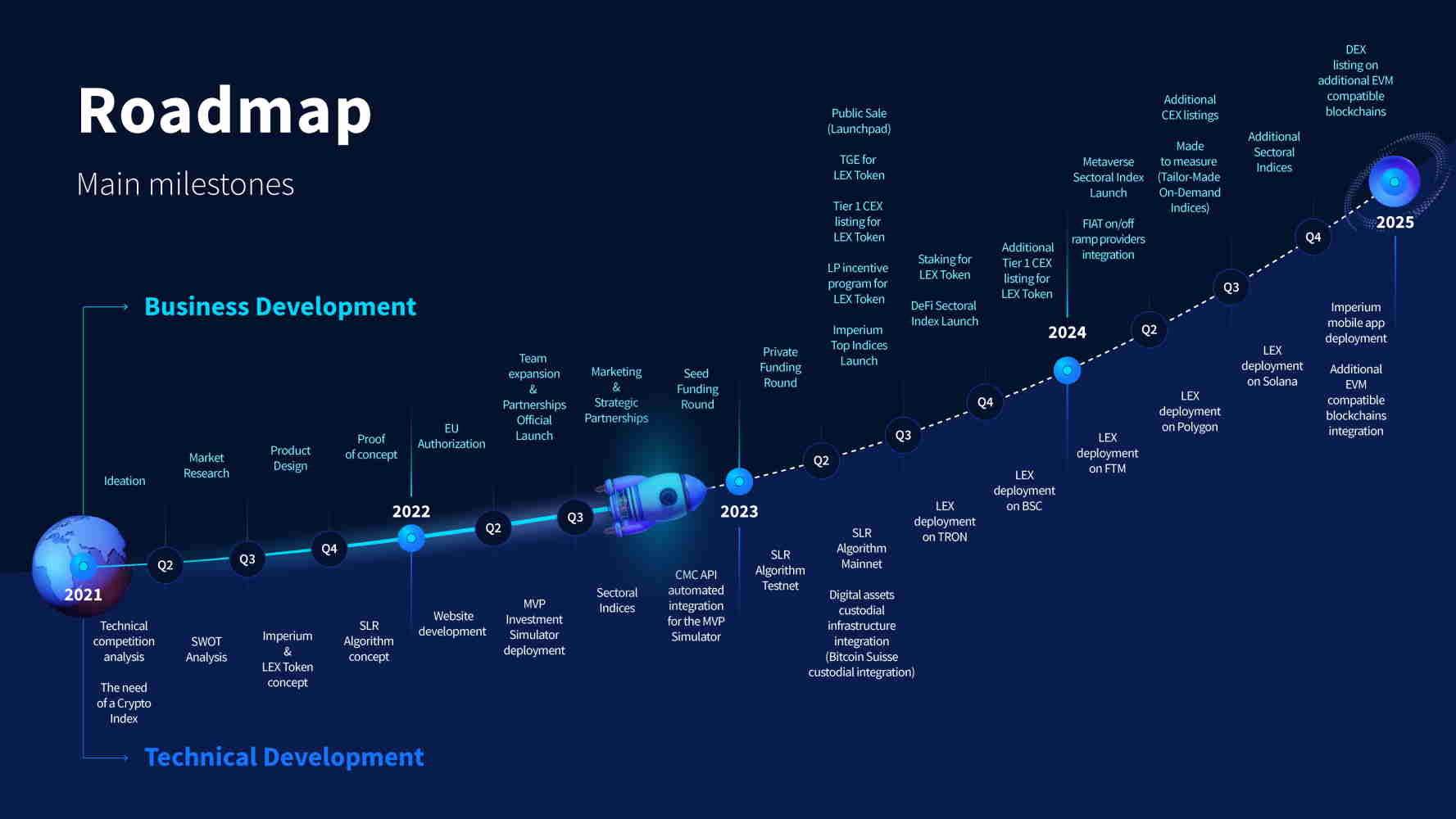 Business Roadmap and Technical Roadmap
A business is a complex organism, that has many functions. While its primary one is to deliver a useful, valuable product to its customers, the other one is making a profit.Thus, in the endeavor of developing a startup, a company must take in consideration both directions and take actions that build on both simultaneously. The same applies with crypto-based businesses.Therefore,
Imperium
divided its attention and efforts in two, creating a business roadmap and a technical one that work in parallel.The business roadmap is the representation of the business plan on a time axis, transposing goals into actionable and achievable steps. It shows all the important milestones the project goes through: funding stages, partnerships, product launches, exchange listings, marketing campaigns, community growth, and all things that have a role to play in accomplishing the business objectives.The technical roadmap is the timeline of proposed technical development. It includes the development and upgrade of the products and blockchain infrastructure, the implementation of new technologies etc.For a startup, this is as important as its business roadmap, as the former serves as the foundation for the latter. And a project without a solid foundation will not go anywhere far.


BUSINESS ROADMAP
Q4 2022
Seed Funding Round
Imperium
is still in its early development stage, but the project grew a lot until now.The project developed a proof-of-concept and MVP, obtained a crypto authorization, and hired a whole team in order to build the web platform, to code the smart contracts, to create content and to grow its presence in the social media, to audit the company financially and legally. Furthermore, Imperium was represented locally and internationally at relevant cryptocurrency conferences.All these take money, of course, and with a lot of development to be made further, as we will explain in this article, funding is vital.In this quarter, Imperium will be focusing on connecting with private investors, in order to raise the money needed to push the project forward.This first round of private investment will help the company sustain its expansion, as a lot of new costs will arise (paid marketing campaigns, team growth, web, infrastructure and blockchain development, certifications & audits etc).
Imperium DeFi Index — Community Contest
"Imperium DeFi Index" is the company's new investment product, being the first of Imperium's Sectoral Indices. It is consisted of a selection of 25 of the top cryptocurrencies in the DeFi industry.The index is constructed and managed based on a specific methodology and it is divided into several categories, based on project size:
Stars — 10 projects, places 1 to 10
Rising Stars — 3 projects, places 11 to 13
Reliable — 3 projects, places 14 to 16
Promising — 3 projects, places 17 to 19
Emerging — 6 projects, places 20 to 25
While the projects in the first 4 categories are exclusively picked by Imperium's team, for the Emerging Category, most of the inclusion decision is made through a Community Contest involving social interactions and votes.
Q1 2023
Private Funding Round
A second round of private investments takes place to gather supplementary funding from smaller institutional investors in order to support Imperium's cashflow until the breakeven point.
Public Sale Marketing Campaign
A big marketing campaign will be deployed to promote the upcoming Public Sale of LEX Token. It will be consisted of targeted banners on profile websites and listings on ICO platforms.
Q2 2023
LEX's TGE (Token Generation Event)
LEX Token will officially be born at the Token Generation Event. The total supply of 31,736,917 tokens will be minted on the blockchain and the coins will be transferred to investors and used for further sale events and other allocation.
Public Sale
LEX Token's Public Sale will be conducted through an IDO (Initial DEX Offering) on a Tier 1 crypto launchpad. The chosen launchpad will be announced prior to the Sale.While the process of getting whitelisted for the IDO can variate depending on the launchpad, generally a draw is made from all the addresses that applied for the whitelist.Each address can have one or more chances in the draw, depending on factors such as the amount of the native tokens or Liquidity Providing tokens held.Following the draw, a certain number of addresses are given a whitelist ticket (only one ticket per address), corresponding to a fix amount of LEX that can be bought.
DEX listing
Following the IDO, LEX Token will also be listed on a Decentralized Exchange on Ethereum and be included in a liquidity pool in order to allow users to buy/swap it seamlessly with other assets, in a permissionless manner.This will allow even more small investors to buy the LEX Token and benefit from Imperium's ecosystem.
CEX listing
A key step on the way of LEX adoption is giving it to the masses. Thus, LEX will also be listed on a Tier 1 Centralized Exchange, increasing exponentially LEX's exposure in the crypto market.
Liquidity Pool
A LEX-USDC Liquidity Pool will be launched on the Ethereum blockchain and allow holders to engage in liquidity providing.Liquidity providers will benefit from two types of rewards.First, they will be rewarded with a fraction of the fees charged for the transactions on the liquidity pool, equivalent to the amount of liquidity they supplied.Secondly, they will receive a certain amount of LEX, also relative to their share in the pool. Thus, even more the holders are incentivized into participating in liquidity providing, increasing the liquidity and price stability of the token.
Imperium Top Indices Launch
Concomitantly with LEX's Public Sale, Imperium's main products will be launched to the public.The Top Crypto Indices, IM10, IM20 and IM50 and the Top Altcoins Indices, IM10alt, IM20alt and IM50alt will be made available on Imperium's platform for anyone to invest in.Thus, investors will be able to benefit from an easy-to-use automated investment tool, powered by a powerful algorithm, that provides simplicity, security, ownership, and permanent exposure to the top cryptocurrencies, based on their market capitalization.This milestone marks the beginning of Imperium's story.
Investor Reward Program
Imperium's investors are at the heart of our ecosystem. Thus, we will make sure that they are satisfied with their involvement in
Imperium
. Each investor in the indices will receive additional rewards through our Investor Reward Program.
Referral Program
As part of our growth strategy, users will be incentivized to bring new investors to the platform and receive rewards based on their recommendations.
Q3 2023
TRON DEX Listing
LEX's future is multi-chain. Further development will allow users to trade and transfer the token on multiple EVM compatible blockchains.In this sense, the Imperium dashboard will feature multi-chain wallets and improved security to ensure transactions happen safely and seamlessly.LEX's cross-chain integration will start with its listing on a DEX on the TRON blockchain.TRON is our second option, after Ethereum, because of its low-fee ecosystem and great adoption between crypto users, having more daily active addresses than Ethereum.
LEX Token Staking
Imperium's ecosystem will also feature a staking mechanism, allowing holders to stake their LEX in order to receive attractive rewards, especially for early stakers that will benefit from higher APYs.
Imperium DeFi Index — Official Launch
Our new product, the Imperium DeFi Index, will launch and DeFi fans will be able to invest in 25 of the top Decentralized Finance projects, all at once.Using our index, investors will be at ease as they will not need to perform a complex due diligence, as this is covered rigorously by Imperium's team during the inclusion evaluation of the projects selected.
Q4 2023
BSC DEX listing
LEX Token will get listed also on a Binance Smart Chain DEX. The blockchain has seen increase popularity with the launch of many projects over the years on its multiple launchpads and of course, as one of the main blockchains in the infrastructure of the world's biggest cryptocurrency exchange. Therefore, launching on a BSC DEX is the next best option.
Additional CEX Listing
LEX token will be listed on other Tier 1 Centralized Exchanges as part of Imperium's goal to make LEX available for every crypto user. We know that Imperium devoted fans will be there wherever we are, but for the rest, we will make all the necessary steps to make the process of investing in LEX easier and accessible.
Q1 2024
FTM DEX Listing
LEX will be listed on a DEX on Fantom, as it is one of the fastest, most secure, and scalable blockchains out there, being EVM compatible. It will be our next blockchain of choice in our pursuit to make LEX a multi-chain token.
Imperium Metaverse Index Launch
After the DeFi sector, Imperium is looking at the Metaverse universe as it has gathered a lot of mainstream attention during 2021.Thus, the company will develop and launch a new sectoral index, the "Imperium Metaverse Index", composed of some of the most thrilling and exciting projects out there. The index methodology will be similar to the DeFi Index, assuring the same level of profit potential and risk analysis.We believe in the power of this novel technology and think that it will change the world "as we see it", onboarding new users in the space, that are not necessarily interested in financial products or even crypto to begin with.
FIAT On/Off Ramp providers integration
The integration of FIAT payment providers in Imperium's platform will allow users to buy LEX directly with the swipe of a credit card or sell it for FIAT currencies to withdraw it in their bank account.It will also be the case for the Imperium Indices, as investors will be able to instantly cash in or cash out their investments using FIAT.The simplicity and accessibility of the process will push adoption forward, being a huge step for Imperium in the sense of user growth, as it will further encourage a lot of non-crypto investors to join the crypto wagon.
Q2 2024
Polygon DEX Listing
Polygon is a decentralized Ethereum scaling platform that enabling the creation of scalable dApps with low transaction fees, without sacrificing on security. It has seen increased popularity in the last couple of years and will be the next blockchain on which LEX will be traded using a Decentralized Exchange.
Imperium Tailor-Made On-Demand Indices Launch
Yet another investment product by Imperium is the Tailor-Made Indices.After facilitating the investment in the best projects in the crypto market, with Imperium Top Indices, and then offering niche asset-baskets vetted by our team, with our Imperium Sectoral Indices, Imperium wants to give back the power to its users, allowing them to make their own custom crypto index!This will give investors freedom of choosing their own investment strategies, based on their risk & reward appetite, and their preferred assets. With the Tailor-Made Indices, imagination is the only limit, and the set-up of your own personal index is at one click away.
Q3 2024
Solana DEX Listing
LEX Token will be tradeable also on a DEX on the Solana blockchain, in order to reach its fans. Yet another "Ethereum killer", Solana is one of the top 10 cryptocurrencies. Their fast, low-cost, scalable blockchain has seen a lot of development and adoption in recent years.
Additional Sectoral Indices
As Imperium develops further, other Sectoral Indices will be launched on niche industries such as gaming, green technology, SocialFi etc.
Q4 2024
DEX listings on additional EVM compatible blockchains
LEX will continue to launch on other EVM compatible blockchains in Imperium's efforts of scaling the ecosystem and grow its user base, making LEX accessible to every crypto investor out there.
TECHNICAL ROADMAP
Q4 2022
Metamask Integration
Metamask is the world's leading non-custodial wallet for ETH and ETH-based tokens. It has seen a 1800% increase in just one year, and in August 2021 it surpassed 10 million monthly active users.As the LEX token will be ETH-native, being built on the ERC-20 standard, it is only natural to integrate Metamask into the Imperium platform. Its implementation will allow users to create an Imperium account using their own wallet, to buy and sell LEX tokens on the platform and to invest and cash out in Imperium's indices.Although a Metamask wallet will not be mandatory to create an account, this integration is a key point in the company's technical development, as users will have a fast and straightforward way to onboard onto the platform, thus Imperium benefiting from Metamask's widespread adoption.
Investment Simulator — Full Data Integration
At the time of writing this article, CoinMarketCap's Market Data API has been integrated into the Investment Simulator, to feed it with daily updated price data. Thus, users can now run investment scenarios starting from April 1, 2021, up until the present moment.The simulation interval will extend soon with the integration of even more historical data, allowing users to run scenarios of the period before the ICO fever back in 2017.
Other Major Website Updates
Imperium is planning major further updates on its website, bringing a design "facelift" and some structural modifications, new features to its dashboard (such as customization options and social login) and new individual pages for each index, containing specific analytics in the form of graphs, charts, and tables and simulation option.
Q1 2023
Multiple Wallets Integration
Prior to the official launch of the Indices and of the LEX token, Imperium will further integrate multiple crypto wallets into its platform to facilitate onboarding of as many crypto users and make investing, buying and selling available for everyone.Here is a selection of some of them:
WalletConnect
WalletConnect is an open protocol enabling wallets and dApps to securely connect and interact.Although it is not itself a wallet, it is a standard in crypto, allowing an app to get easily interconnected with hundred others, without the need of separate integrations for each and every one.With more than 1 billion connections being made daily between 170+ wallets and 450+ dApps, WalletConnect is a must-have integration that will enable Imperium platform to connect with most of the relevant wallets on the market.
Trust Wallet
Owned by Binance, Trust Wallet is maybe the best crypto wallet for mobile, with built-in support for dApps and NFTs, supporting a vast range of coins and tokens and with a clean, easy to use interface.Furthermore, its integration with Binance DEX lets users buy large numbers of tokens with a debit or credit card.There are some of the reasons why we will integrate Trust Wallet directly into Imperium's platform.
TronLink
TronLink is one of the most well-rounded wallets on Tron, being fully compatible with all tokens on the blockchain, including TRX, TRC-10 and TRC-20 tokens.It's simple & user-friendly interface and multiple convenient features made TronLink the wallet of choice for more than 10 million users (about half the population of New York) on the Tron blockchain.Part of Imperium's multi-chain growth strategy, we will integrate TronLink as it is one of the most robust and popular Tron wallets.
Coinbase Wallet
Coinbase Wallet it is an intuitive and highly secure wallet backed by a well-known exchange.It is ideal for beginners with little to no experience with crypto as it connects to most major bank accounts, supports thousands of cryptos, and the user interface was designed to be intuitive and easy to navigate.This makes a Coinbase Wallet integration an ideal addition to Imperium's platform as it will allow a lot of crypto newbies to onboard.
Crypto.com
Wallet is a great for DeFi users because of its variety of decentralized finance tools, excellent onboarding process and strong security framework.Including one-to-one crypto swaps and a wide range of tools for investors to earn passive income on the crypto they already own,
Crypto.com
attracted over 50 million users (about twice the population of Texas), making it useful to integrate with the Imperium ecosystem.
Ethereum NFT Smart Contract
As you may know, after investing in Imperium Indices, users will be issued a custom NFT that constitutes their proof of ownership of the underlying assets.This is employed as a second layer of security, besides the KYC/AML verification, for supplementarily safeguarding investors' assets, but also as a solution for an easier investment process to non-crypto users.These NFTs are transferable, inheritable, and vendable, and offer the holder the possibility to cash out the investment behind it.Just like LEX, the NFTs themselves will also follow a multi-chain strategy, and Imperium will start minting them on Ethereum first, as the "prince" of all blockchains and "king" of altcoins.Thus, the NFT Smart Contract will be developed on the ERC-721 standard, allowing users to benefit from its widespread availability.
Digital Asset Custodian Partnership
Custodians are specialized financial institutions responsible for providing securities services, safeguarding assets of asset managers, insurance companies, hedge funds etc.They are a must-have for any financial services provider as it assures clients of the security of their funds. In the hands of only few unspecialized people in the top management they would be at risk from multiple points of view, being exposed to theft, hacks and other security issues.Sealing a deal and integrating such a third party is paramount for the company, as Imperium always put security and compliance first, before taking any steps in addressing to the public.Our custodial provider will be a first-class service company and will integrate seamlessly with Imperium's infrastructure, ensuring that it will always function, without problems or delays, and that funds are #safu.
Infrastructure Testing
The "testnet" of Imperium's infrastructure is live.All systems are put in place to test them 360 degrees, before the launch.After the integration of data providers, servers, asset custodians, smart contracts and exchanges with Imperium's platform and its SLR Algorithm, all operations between these components must be tested to identify potential bugs, flaws and weaknesses.Also, the infrastructure must undergo a stress test to assess if it can support a lot of requests and transactions at the same time, as many users will use the service simultaneously when Imperium will go live.This process is vital since a single point of failure in the design, configuration, or implementation of a system or one of its components could lead to the entire system to stop working or malfunction.The complex ecosystem must also be tested and optimized for usability, to ensure that it is fast and easy to use and that its elements communicate and work together in a seamless manner.
Q2 2023
LEX Token Smart Contract Audit
A world-class specialized smart contract auditor is employed to assess the security of Imperium's smart contracts, ensuring we are in tune with best practices in the field and compliant with any legal requirements in place.Any found bugs or vulnerabilities are fixed as the blockchain infrastructure must be perfect upon launch to avoid any exploits or hacks.Imperium Launch — Infrastructure operating at full capacityAs all the possible flaws are solved in the testing phase, Imperium's launch should undergo without any hiccups.Of course, there's always room for error, as nothing in life is 100% sure.But we will take care of 99,99% of the issues that might occur before the launch, as we want to offer a close-to-perfect experience since the beginning and allow users to enjoy Imperium's much anticipated launch.Our technical team will be following closely the process to ensure everything goes as planned and operates optimally.
Multisig Wallets Implementation
A multisig (or multisignature) wallet is a digital wallet that operates with multisignature addresses. This means that it requires more than one private key to sign and authorize a crypto transaction.Being as well necessary in the financial sector, this system will be put in place as an additional layer of security guarding all high-value transactions.This measure will further induce trust between users and will make Imperium Indices an attractive investment option also for institutional investors.
Q3 2023
Decentralized hosting integration
A decentralized hosting provider is integrated into the ecosystem and some of the servers are migrated to the new host in order to raise the levels of both security and decentralization of Imperium's platform.Although we are supporting regulation in the space, we believe that crypto should remain trustless and therefore we will always seek and adopt decentralized solutions if they are complying with our security standards.
Multi-Chain Development of Smart Contracts
LEX Token and Imperium NFTs will follow a multi-chain strategy, to benefit from each blockchain advantages, be it scalability, speed, user base or other factors.The smart contracts for LEX and Imperium NFTs will undergo deployment on most of the EVM-compatible blockchains, to make Imperium's products chain agnostic for increased scalability and usability.Below we are listing the timeline of the deployments and the reasons we choose each chain.
LEX & NFT Smart Contracts Deployment on TRON
Tron was built to help bring in a decentralized Internet. It was originally designed to eliminate the middleman in the entertainment industry and allow content creators to sell their work directly to consumers, giving them total ownership.Thus, the blockchain primarily hosts entertainment applications. In 2018, the non-profit development company behind Tron, the Tron Foundation, acquired peer-to-peer content sharing platform BitTorrent.But there are signs that TRON and Ethereum are becoming competitors for the business of cryptocurrency traders, as they turn to the former for its low fees and high transaction speeds.With over 114 million accounts and 3.9 billion processed transactions, TRON is the world's fastest-growing public chain, seeing a lot of development in the latest years.
Q4 2023
LEX & NFT Smart Contracts Deployment on BSC
BNB Smart Chain (BSC) launched in September 2020, about a year and a half after the launch of its older sibling Binance Chain (BC). It is a smart contract platform mimicking the functionality of Ethereum and other dApp platforms such as Tron and EOS.As Binance gained popularity, so did BSC, as it was formed around the time the DeFi movement was also taking off. Besides being one of the main blockchains in the infrastructure of the world's biggest cryptocurrency exchange, BSC also grew as many dApps were built and launched on top of the EVM-compatible blockchain.Besides being EVM-compatible, BSC advantages are transaction speed (blocks are generated every 3 seconds), low gas fees, cross-chain compatibility and credibility, being backed by Binance.
Q1 2024
LEX & NFT Smart Contracts Deployment on FTM
Fantom is a permissionless EVM-compatible smart contract platform that utilizes a unique proof of stake (PoS) consensus mechanism called "asynchronous Byzantine Fault Tolerant" (aBFT). This maintains the network's efficiency and aims to maximize speed and ensure high security at a lower cost, making it highly scalable.Fantom network only takes about 1–2 seconds to validate transactions, while its 3.5 million unique addresses having processed so far almost 400 million transactions in little over two years.
Q2 2024
LEX & NFT Smart Contracts Deployment on Polygon
Polygon is a decentralized Ethereum scaling platform enabling the creation of scalable dApps with low transaction fees, without sacrificing on security.The network addresses Ethereum's challenges by handling transactions on a separate Ethereum-compatible blockchain, returning transactions to the main chain post-processing. This approach lowers the network load on Ethereum. In doing so, Polygon can speed up transactions and lower transaction costs to less than a cent.Its over 135 million unique addresses generated 1.8 billion transactions saving an average of $140 million in gas daily.Its scalable and low-fee infrastructure encouraged a lot of developers, as more than 19.000 dApps have used Polygon to scale their performance.
Q3 2024
LEX & NFT Smart Contracts Deployment on Solana
Solana is a public, open-source blockchain that supports smart contracts, including non-fungible tokens (NFTs) and a variety of decentralized applications (dApps). It is much faster in terms of the number of transactions it can process and has significantly lower transaction fees than rival blockchains like Ethereum.Operating on both a proof-of-history (PoH) and proof-of-stake (PoS) consensus model, the network has processed over 100 billion transactions at an average cost of $0.00025 per transaction, as of September 2022.
Q4 2024
Additional EVM-compatible blockchains integration
Imperium will further develop smart contracts on other EVM-compatible blockchains, in order to make LEX and Imperium NFTs seamlessly tradeable and transferable across as many chains as possible.
Imperium Mobile App
Investing in Imperium will become as easy as checking your emails on your smartphone with Imperium's Mobile App.Further developing its infrastructure, the mobile app will be able to connect with multiple crypto wallet providers.With just a few taps, you will be able to invest in the world's top cryptocurrencies or cash out from your investments. Also, you will be able to buy/sell $LEX, put it to stake or transfer it to another wallet.It will feature all the important functionalities of Imperium's web platform and additional ones, thus making it even easier for users to onboard, invest, trade, transfer and manage their portfolio on the go.Hope you are as thrilled as we are about what we have revealed you and. Our road ahead is even more exciting than before, as we unveiled new business perspectives and potential for Imperium.Thanks for being with us until now and we invite you to remain alongside us for the future, as we are very optimistic about it.PS: For any questions or comments, reach out to us on our social media channels.
We would like to hear your opinion on this subject, as the crypto community is the very heart of Imperium.