Exploring Toshi: The Feline Symbol of Innovation in DeFi
Dive into the World of $TOSHI, Basechain's Mascot, and Discover the Unique Opportunities in Trading, NFTs, and Community Engagement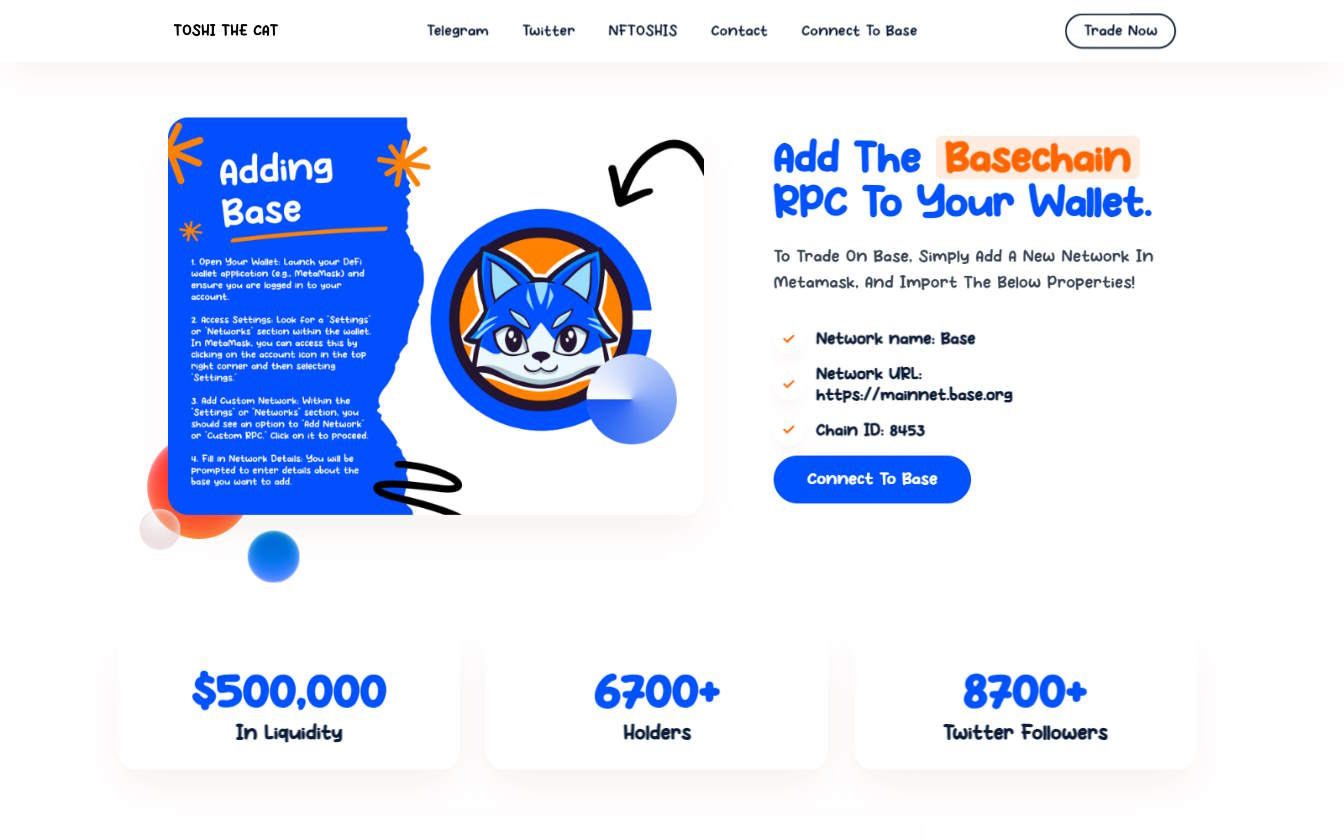 Welcome to Toshi: The Feline Face of Basechain
Meet Toshi the Cat, an intriguing character named after Satoshi Nakamoto, and a favorite of Brian Armstrong. Toshi represents more than just a mascot; it's the face of Basechain, a new, rapid, efficient, and scalable Layer-2 blockchain developed by Coinbase.
Expanding Horizons: Listing on More CEXs
Toshi is not limiting its presence to decentralized platforms. The dedicated team behind Toshi is actively engaged in discussions with pioneering Centralized Exchanges (CEXs) for prospective listings, expanding its reach within the crypto ecosystem.
Toshi Roadmap: A Glimpse into the Future
Curious about Toshi's future plans? The team has laid out an overview of the roadmap, available for everyone to explore on Medium. This roadmap provides insights into the strategic steps Toshi plans to take in the ever-evolving crypto landscape.
Introducing NFTOSHIS
NFTOSHIs are a collection of 3000 unique NFTs, representing the DeFacto Community NFT Project on Basechain. The mint date for these exclusive NFTs will be announced shortly and will be available exclusively to token holders.
Connect with Toshi Community
Join the vibrant $TOSHI community on
Telegram
and be a part of the largest community token on Coinbase's new Layer-2 Blockchain. Stay updated with the latest news and developments by subscribing to $TOSHI updates on the
official website
.
Explore More about Toshi
Opensea:

Discover the NFTOSHIs collection on Opensea.

CMC:

Learn more about Toshi's market presence on CoinMarketCap.
Contact and Support
For any inquiries or support, reach out to the Toshi team at
Admin@ToshiTheCat.com
.Toshi is not just a token; it's a community united by a shared vision and love for DeFi, proudly based worldwide. Join the journey, explore the opportunities, and be a part of the Toshi revolution!