Blitz: Revolutionizing Sports Betting with DeFi
Join the #BLITZARMY: A Revolutionary Way for Sports Enthusiasts to Earn Crypto Rewards While Enjoying Their Favorite Games!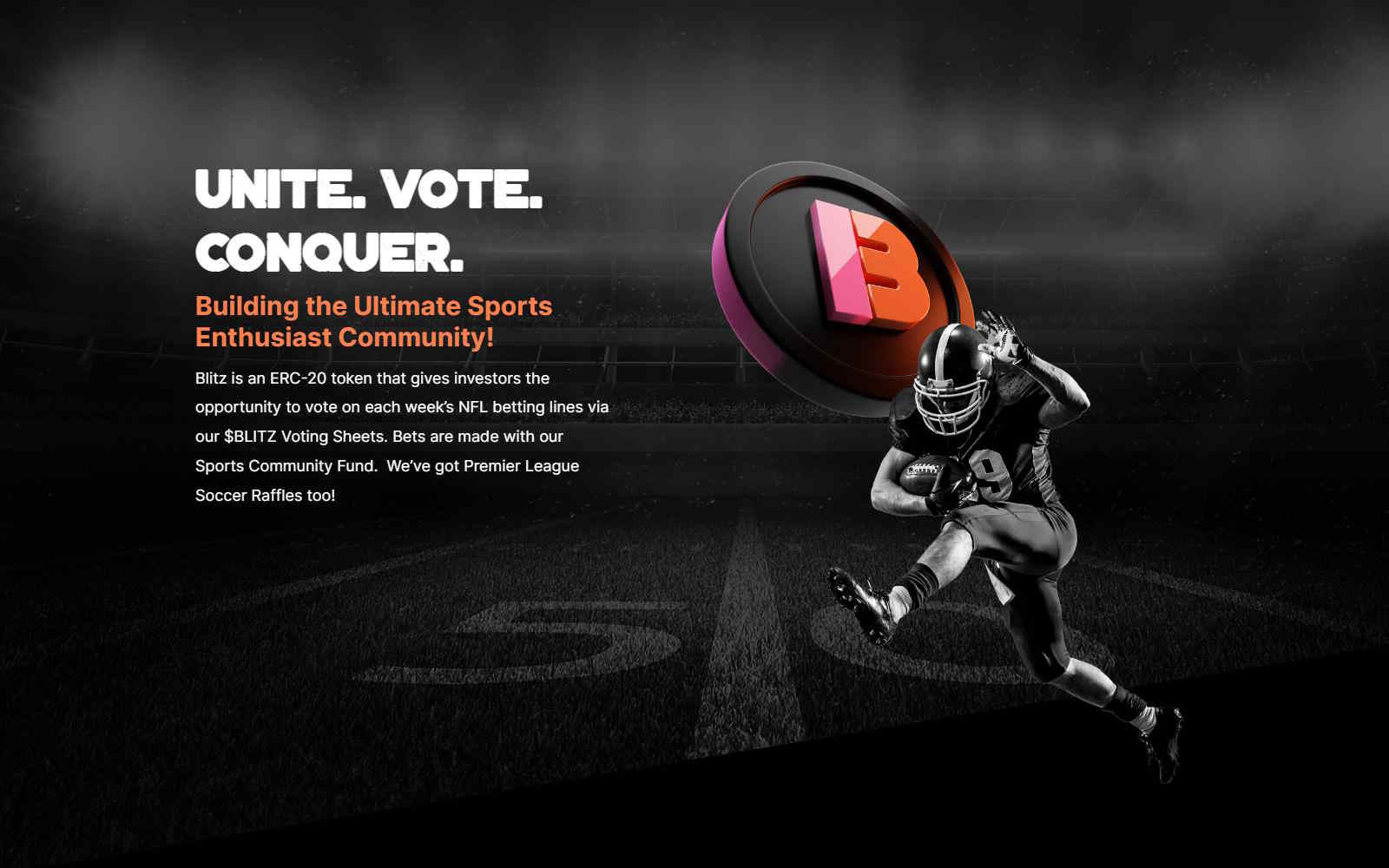 In the fast-paced world of cryptocurrency and DeFi, the emergence of innovative projects is nothing short of astounding. One such project that has been making waves in the sports betting arena is Blitz. Designed as an ERC-20 token, Blitz is tailored explicitly for the professional sports enthusiast. This project is not just about betting; it's about building a massive global community of sports fans who can engage, have fun, and cheer on their favorite teams collectively. With a primary focus on the National Football League (NFL) at launch, Blitz plans to expand into additional professional sports, making it a true game-changer in the world of sports betting.
Project Highlights: Empowering the Community
Blitz's primary objective is to provide an inclusive platform that allows community members to actively participate in the decision-making process. The community's voice is central to Blitz, and every week, members vote to determine which games to place bets on, ensuring a fair and democratic approach to game selection. While starting with the NFL, Blitz intends to incorporate other popular sports in the future.But what truly sets Blitz apart is its commitment to community engagement and empowerment. A percentage of suggested wager winnings will be allocated for token buybacks, which will be vaulted in a transparent ENS wallet. The Blitz DAO Voting System will decide how to utilize these vaulted tokens each month, potentially reducing token supply and positively impacting the token's market price. In Blitz, power lies in the collective.
Why Blitz? The Power of Transparency
One of Blitz's key strengths is its transparency. The buyback process is easily trackable, providing full transparency and enhancing investor confidence. The community can always check the buyback wallet at "blitz-buy-back-wallet.eth," and the usage of these tokens is determined by community voting through the Snapshot DAO Voting System. Possible uses include marketing, liquidity enhancement, investment opportunities, community contests, and more.Blitz is not solely reliant on tax revenue to build a betting fund. The project started with a substantial initial fund of $32,500 at launch, and a portion of tax allocations is directed towards further enhancing this fund. Blitz also employs a Progressive Betting Model to manage risks and grow the fund quickly, making it a win-win situation for the community.
Buybacks System: Fueling Growth
Blitz's buyback system operates efficiently, ensuring that a significant portion of winnings goes back into the Community Sports Fund, which fuels future bets. Additionally, community members who make winning picks receive rewards in Ethereum. Blitz encourages community engagement by requiring investors to hold a minimum of 35,000 $BLITZ tokens to qualify for these rewards.Blitz offers an exciting betting experience through weekly community betting suggestion sheets. Community members can pick their favorite straight up pick, over/under pick, and two-team parlay. These picks drive the bets made by Blitz from the Sports Community Fund. It's a unique and engaging way for sports enthusiasts to participate and potentially earn rewards.
Market Analysis: Bridging DeFi and Sports Betting
Blitz's integration of blockchain technology, DeFi principles, and DAOs for sports enthusiasts represents an untapped market segment. This innovative approach gives Blitz a first-mover advantage with significant growth potential. The project aligns with the growing interest in DeFi, democratizing and decentralizing financial systems.
Product Offered: Community-Driven Betting
Blitz's product offering includes interactive voting sheets and a focus on the NFL initially. Community members actively participate in the decision-making process by suggesting wagers and voting on game selections. Blitz also hosts weekly $BLITZ Spaces for project updates and NFL game discussions, fostering a strong sense of community.The project adds excitement with special bets for Monday Night Football and Thursday Night Football, engaging the community in high-stakes predictions. The Blitz Community Betting Sheets and Pick Em' Pool contests allow members to submit their picks and compete for rewards.
Calendar: A Week of Community Engagement
Blitz follows a well-structured calendar for community engagement, ensuring members have ample time to cast their votes and complete their Pick Em' Pools. Special bets for Monday and Thursday Night Football add an extra layer of excitement and engagement. Blitz keeps the community involved throughout the week, building anticipation for game day.
Revenue Model: Maximizing Value
Blitz's revenue model is multifaceted. It focuses on brand awareness, community engagement, partnerships, and collaborations. The project collaborates with established sportsbooks to ensure reliable odds calculation, creating trust among users. Blitz also plans to generate additional revenue by promoting and selling promos to sports-related communities and organizations.
Operational Plan: Transparency and Fairness
The operational plan for Blitz includes a clear distribution of team tokens and strict sell rules. Team members are committed to the project's success and have linear distributions of tokens over time. Taxes are allocated to various purposes, including operating costs, future compliance, marketing, community sports funds, and buybacks.
Taxes and Team Tokens: Building for the Future
Blitz allocates a portion of taxes for operating costs, future compliance, marketing, and community sports funds. This strategic allocation ensures the project's sustainability and growth. The project's team members have a transparent distribution of tokens, with strict rules to minimize sell pressure.
Tokenomics: A Structured Approach
Blitz's tokenomics include a clear breakdown of token distribution, with a focus on the community. A portion of tokens is dedicated to community incentives, emphasizing the importance of community engagement and rewards.
WE PROJECT: Empowering the Community
Blitz believes in the power of community engagement and offers various incentives to members. Community contests, leaderboards, and rewards keep the community involved and excited. Blitz aims to create a community of sports enthusiasts who can collectively influence the project's direction.
Blitzing the Sports Betting Landscape
In a world where transparency, community engagement, and innovation are highly valued, Blitz emerges as a groundbreaking project that combines the excitement of sports betting with the power of DeFi and community-driven decision-making. With a strong focus on the NFL and plans to expand into other sports, Blitz is poised to disrupt the sports betting industry, offering an engaging and rewarding experience for sports enthusiasts worldwide. The future looks promising for Blitz as it continues to build a raving #BLITZARMY of passionate sports fans and investors.