Understanding XFBOT Foundation & XFBOT
The XFBOT Foundation is transforming blockchain services with user-centric token creation and revenue sharing.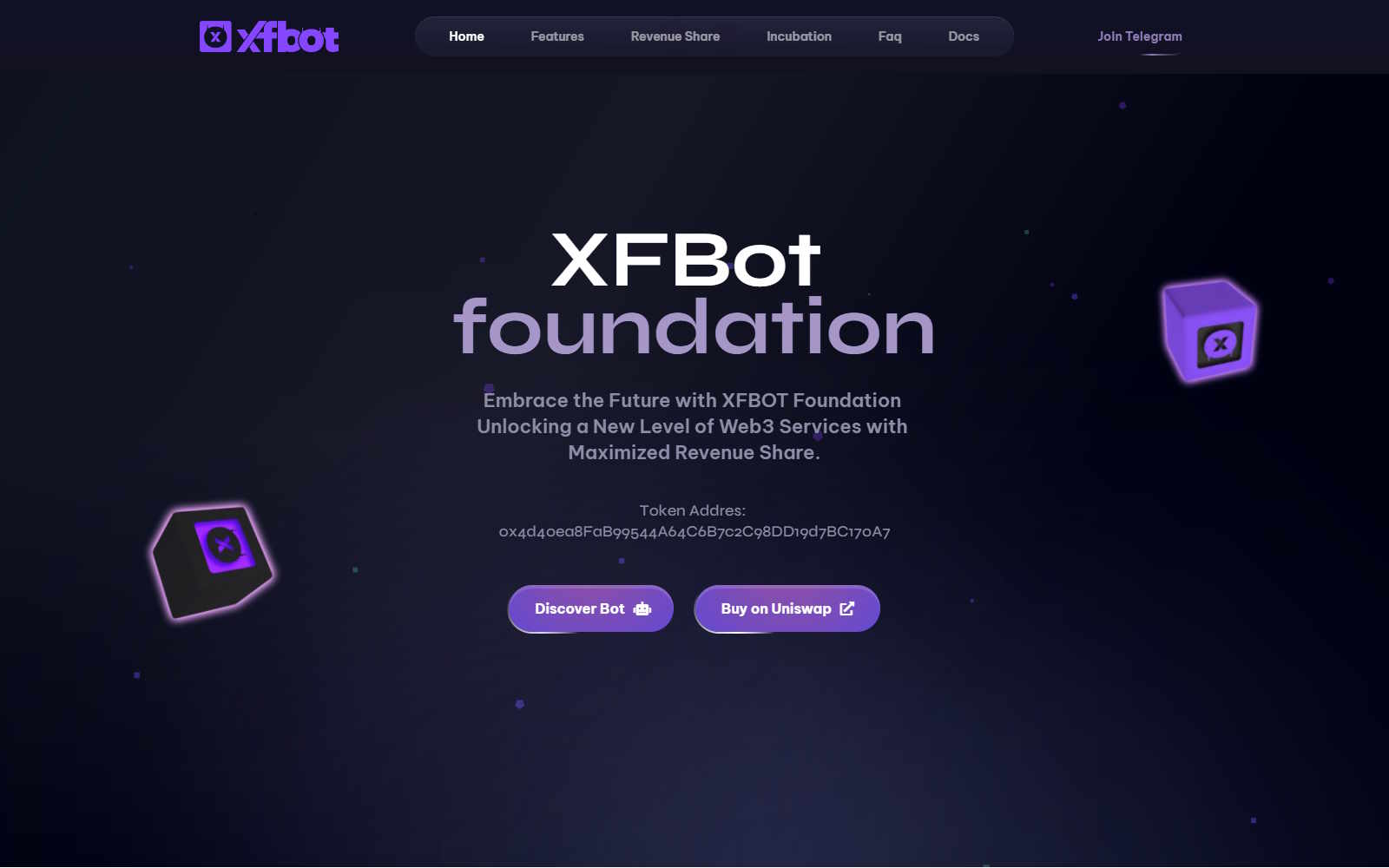 Introduction
The XFBOT Foundation is pioneering a new era of blockchain services, bringing together token creation, revenue sharing, and a plethora of other features under one umbrella. As we navigate towards a more decentralized Web3 future, the foundation stands as a beacon for innovators and investors alike. In this article, we'll dive deep into what makes XFBOT Foundation a game-changer in the world of blockchain technology.
The Mission of XFBOT Foundation
Founded with the vision of empowering blockchain projects, the XFBOT Foundation aims to transform innovative ideas into successful token ventures. Unlike other platforms, it not only provides the tools for token creation but also fosters a community-centric approach that maximizes revenue sharing for its users.
Core Features
Token Launcher
The XFBOT Foundation enables users to create tokens on various chains including ETH, BSC, and others. It integrates seamlessly with platforms like Gem Pad and Pinksale, simplifying the token launch process.
XFBOT Incubation
This feature supports early-stage investment by providing projects with funding, marketing, and partnerships. The community plays a critical role in deciding which projects to incubate.
XCaller Bot
Designed to assist users with trading strategies, XCaller Bot offers an impressive range of functionalities. The bot can integrate with other bots like Unibot, Maestro Bot, and Safeanalyzer.
Revenue Sharing Model
Perhaps one of the most compelling features, the revenue-sharing model is divided into First and Second Block sharing. It employs an automatic distribution system via Snapshot and offers a custom Dapp for easy revenue collection.
User Experience
No Code, No Barriers
Token creation is made extremely accessible through the XFatherBOT on Telegram. A range of command-driven functionalities ensures that even non-coders can create their tokens with ease.
Customization Options
The XFBOT Foundation offers anti-sniper functions and adaptive functionalities, ensuring that every user's needs are met.
Exclusive Privileges for Token Holders
Being a $XFBOT holder comes with a suite of rewards including chat access and other perks, making it advantageous to become a part of this ecosystem.
Latest updates
Gempad Partnership
Strategic partnership announced between XFBot Foundation and GEM PAD, a leading DeFi Launchpad.
Significant improvements expected in the new v2.2 update.
PinkSale Announcement
Partnership announced with PinkSale and integration of PinkSale and DexView features into XFather bot.
Users can now create presales directly from Telegram through XFather bot.
Stay tuned for future updates from PinkSale and XFBot Foundation.
First Incubated Project: $LSHARE
Introducing $LSHARE, the first project to be incubated by XFBot Foundation.
$LSHARE specializes in Decentralized Liquidity Finance (DELFI).
New Partnership: @ShellBoxes
Latest strategic partnership with @ShellBoxes, leaders in Cybersecurity and Blockchain Development Solutions for Web3.
Services now available through the XFBot Token launcher.
Announcement of Creation BuyBot feature
New feature 'BuyBot' under development, positioned to be the first competitor for Bubble Buy Bot.
Revenue sharing planned for $XFBOT holders.
Beta version going live on September 15, 2023.
New Partnership: @IdoPresales
XFBot Foundation announces partnership with @IdoPresales.
Expert reviews and analysis on presales now available through XFBot's Token Launcher.
Stay tuned for many more updates along the way! #WGMI #XFBOT
How to Get Started
Getting started is simple. Follow these steps to create your first token and join the community on Telegram to stay updated.
Navigate to the XFBOT Foundation's official website.
Buy $XFBOT tokens from Uniswap.
Access the Telegram community for real-time updates and support.
Conclusion
The XFBOT Foundation is revolutionizing the way we think about blockchain services. From seamless token creation to a user-centric revenue sharing model, it is carving a new path in the blockchain ecosystem. As the foundation continues to add features and grow its community, it's clear that it will be a significant player in the Web3 future.
Additional Resources