Epic Web3 Conference & Web3ST
The Epic Web3 Conference also emphasizes the importance of collaboration and partnerships within the Web3 ecosystem through its Web3 Stronger Together initiative.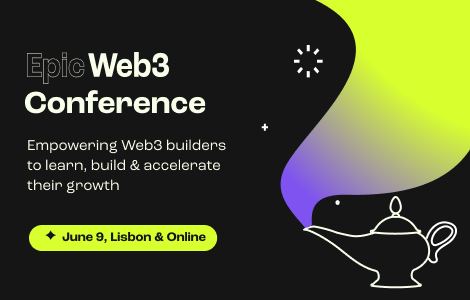 Web3 Stronger Together
partnership is a core aspect of focusing on the belief that collaboration and cooperation are essential for the growth and success of the Web3 space. It encourages participants to connect, share knowledge, and form partnerships to drive innovation and accelerate the adoption of Web3 technologies.
The initiative facilitates networking opportunities, both during the conference and through online platforms, where attendees can meet like-minded individuals, potential collaborators, and industry experts. It promotes the exchange of ideas, experiences, and best practices among builders, fostering a supportive and inclusive community.Through the Web3 Stronger Together partnership, participants are encouraged to leverage each other's strengths, expertise, and resources to tackle challenges, explore new opportunities, and collectively push the boundaries of what is possible in the Web3 ecosystem. This collaborative approach helps to foster a sense of unity and shared purpose among builders, leading to the development of more robust and impactful Web3 projects.
The partnership also extends beyond the conference itself, providing ongoing support and resources to participants even after the event concludes. This may include access to community forums, mentorship programs, funding opportunities, and educational resources to help builders continue their journey in the Web3 space.
By fostering collaboration and partnerships through the Web3 Stronger Together initiative, the Epic Web3 Conference aims to create a strong and interconnected community of builders who can collectively shape the future of the Web3 ecosystem and drive its widespread adoption.
Epic Web3 ConferenceOfficial Website
https://www.epicweb3.com/
Twitter
https://twitter.com/epicweb3
Telegram
https://t.me/epicweb3
Linked In
https://www.linkedin.com/company/epicweb3
Web3STOfficial Website
https://www.web3strongertogether.com/
Telegram
https://t.me/Challenge_Tron_sTRONgerTogether
Official Community
https://t.me/WEB3STCommunity
Linked In
https://www.linkedin.com/company/web3strongertogether/
Twitter
https://twitter.com/Web3ST