PolygonApes Mint & Slapper game!
If you lost the bored ape yacht club on the ETH, now you have the chance to get the Bored #ape yacht club on #Polygon network with less fee and easily sell them at opensea.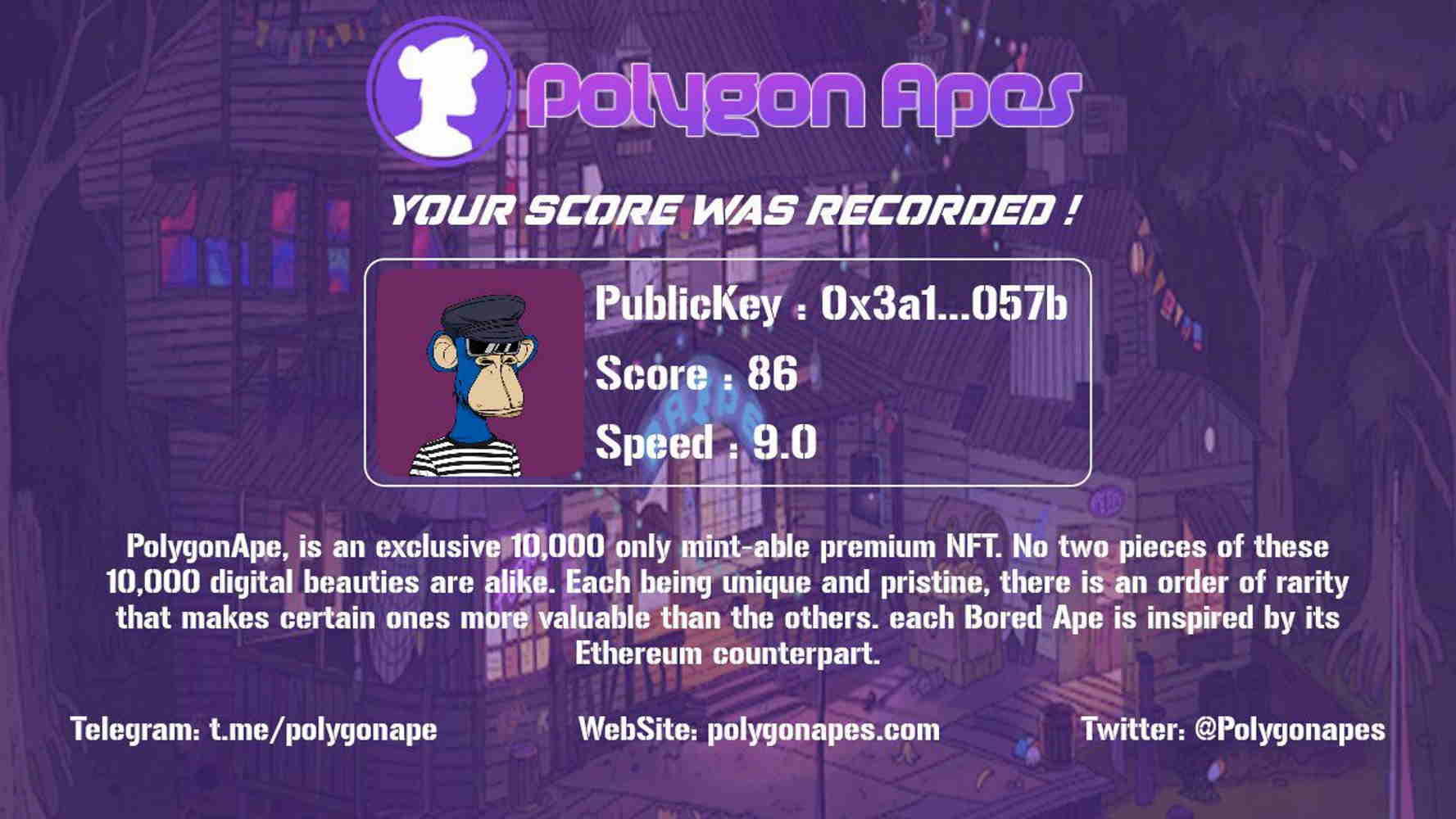 About PolygonApe
The PolygonApes is a 1:1 homage to Bored Ape Yacht Club with changed original background and is not affiliated with Yuga Labs LLC.PolygonApes, is an exclusive 10,000 only mint-able premium NFT. No two pieces of these 10,000 digital beauties are alike. Each being unique and pristine, there is an order of rarity that makes certain ones more valuable than the others. Each Bored Ape is inspired by its Ethereum counterpart. The apes are stored as ERC-721 tokens on the Polygon blockchain and hosted on IPFS.
Slapper game
Slapper game is a score game that allows you to compete with each other by getting new records during the season. All of your records will store and at the end of the season you will get your prize. You can scan your QR Code in the "My Wallet Section" on the Polygonapes website using either iOS or android devices.Ape Slapper season 2 will started At April 20💥
3D gallery of apes
3D gallery of apes is released and you can visit this jungle gallery http://polygonapes.com/gallery3d/
How to Get PolygonApe
Everyone can purchase an Ape by going through Polygonapes.com " MINT" section.First Connect to the Metamask wallet, which is filled with some MATIC.The minting process is fair, and you will get apes at random. Minting is not limited to a wallet, the only limit is that you can mint 20 in every transaction. Each ape costs 50 MATIC, all your Apes will be available in the "MY WALLET" section, also you can import NFTs on your mobile Metamask application.
About PolygonApes
Website —
https://polygonapes.com/
Twitter —
https://twitter.com/polygonapes
Telegram —
https://t.me/polygonape
Medium —
https://polygonapes.medium.com/
Discord —
https://discord.com/invite/cMmu86TecA