Magic Square: Shaping the Future of Web3!
Stepping Into a Decentralized Future: Magic Square Leads Web3 Innovation with User-Centric Magic Store and Pioneering Features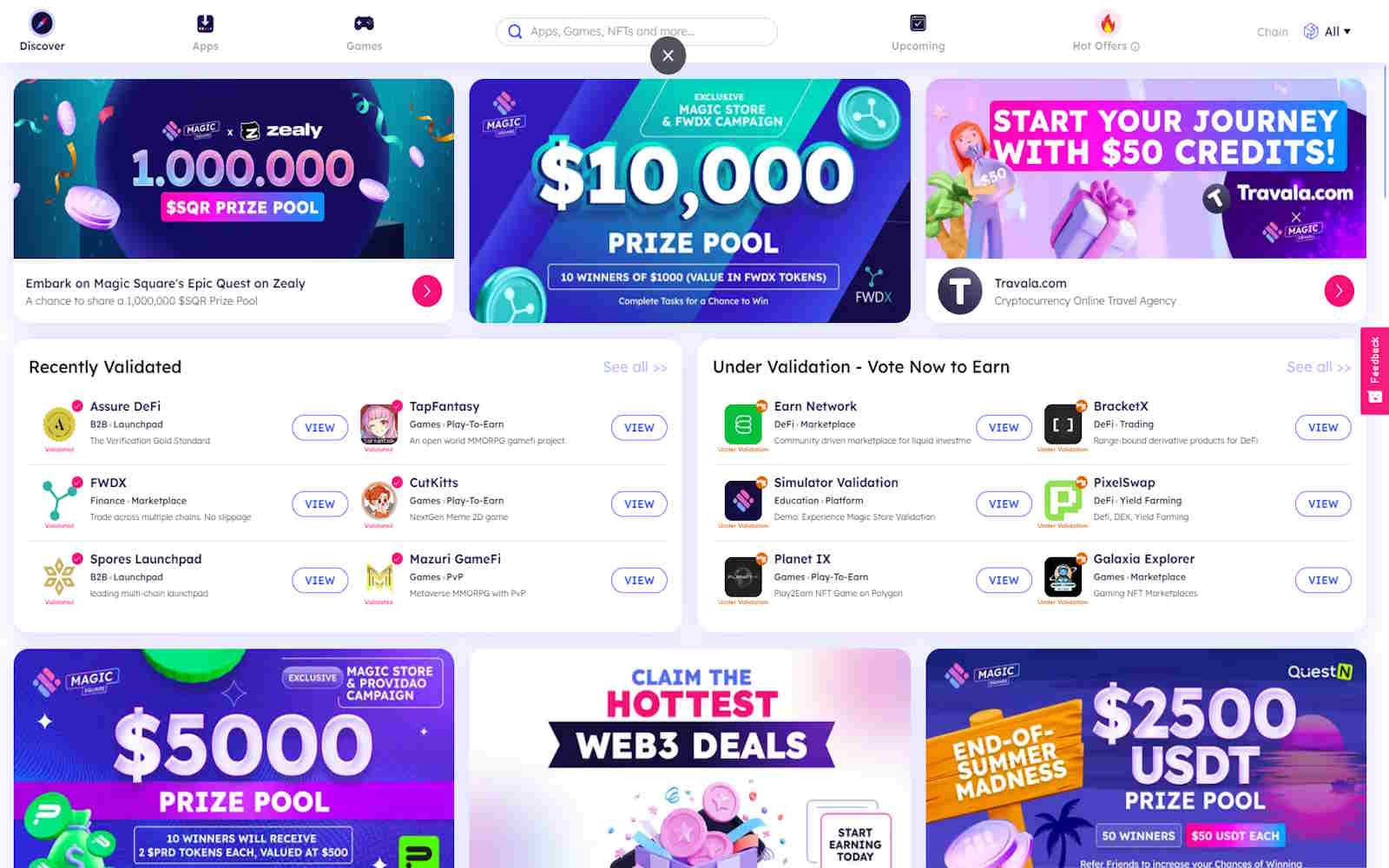 Web3's New Vanguard: Magic Square's Evolutionary Step in Digital Innovation
In an era defined by the ascent of Web3 technologies, Magic Square is leading the way, not just following the trend. At the core of this innovation is the Magic Store. More than a Web3 App Store, it is designed to redefine the user digital experience. Veering away from the limitations of traditional app stores, the Magic Store adopts decentralized principles, offering users an unparalleled level of transparency, security, and control.But Magic Square is more than a technological entity; it is built on a foundation that puts the user first. Every user action within this ecosystem is acknowledged and rewarded, underlining the value of community engagement and collaboration. Magic Square is not just another ecosystem; it is a transformative platform that seamlessly integrates contemporary digital needs with decentralized principles, reshaping the interaction and benefits of Web3 applications.
A Deeper Dive into the Magic Store:
The Magic Store stands out as it's not solely an access point to Web3 apps but a comprehensive platform aiming to enhance user interaction, trust, and value. One of the standout features is that users are rewarded for every action they take on the store.
Highlighting Magic Square's Ecosystem Features:
- Hot Offers: Users are presented with a curated list of exclusive deals, opening up the doors to some of the most exciting Web3 apps available.- MagicID: Forget the hassle of multiple passwords. MagicID offers a secure and efficient digital identity, ensuring a smooth login experience.- Project Validation: Quality is maintained through a community-driven validation process, allowing users to assess and ensure only the best projects are available on the Magic Store.- Karma Points: Every action is valued. Be it voting, engaging with apps, or simply being active, users earn Karma points as a reward.- Referral Program: Magic Square believes in community growth. Inviting friends and expanding the community is not only encouraged but also rewarded.- Magic Boost: This is a leading affiliate network for Web3 and Blockchain projects, offering a plethora of opportunities for both project creators and affiliates.
SQR Token - A Glimpse into the Future:
The anticipation is growing as Magic Square is preparing for the introduction of the SQR token. Depending on market conditions, this token is poised to make a significant impact. Soon, the accumulated Karma points will be exchangeable for SQR tokens, attributing real value to every interaction on Magic Square. Currently, users can convert their Karma points to USDT.To secure a chance at the SQR token airdrop, participation in the Zealy Campaign is encouraged, with a prize pool of 1,000,000 $SQR available.
Dive into the Magic Universe!
Don't be a mere spectator; be a part of this revolution. With a plethora of Web3 apps, rewarding experiences, and a forward-thinking community, the Magic Store is your gateway to the future of the Web3 world.
Esteemed Investors:
1. Binance2. Crypto.com3. Emurgo Ventures4. KuCoin5. Republic6. GSR
Embark on Your Magic Store Journey Today!