Kuma Inu AMA with KuCoin Memecoins Group
Recap of KuCoin AMA session in KuCoin Memecoins Group with Kuma Inu!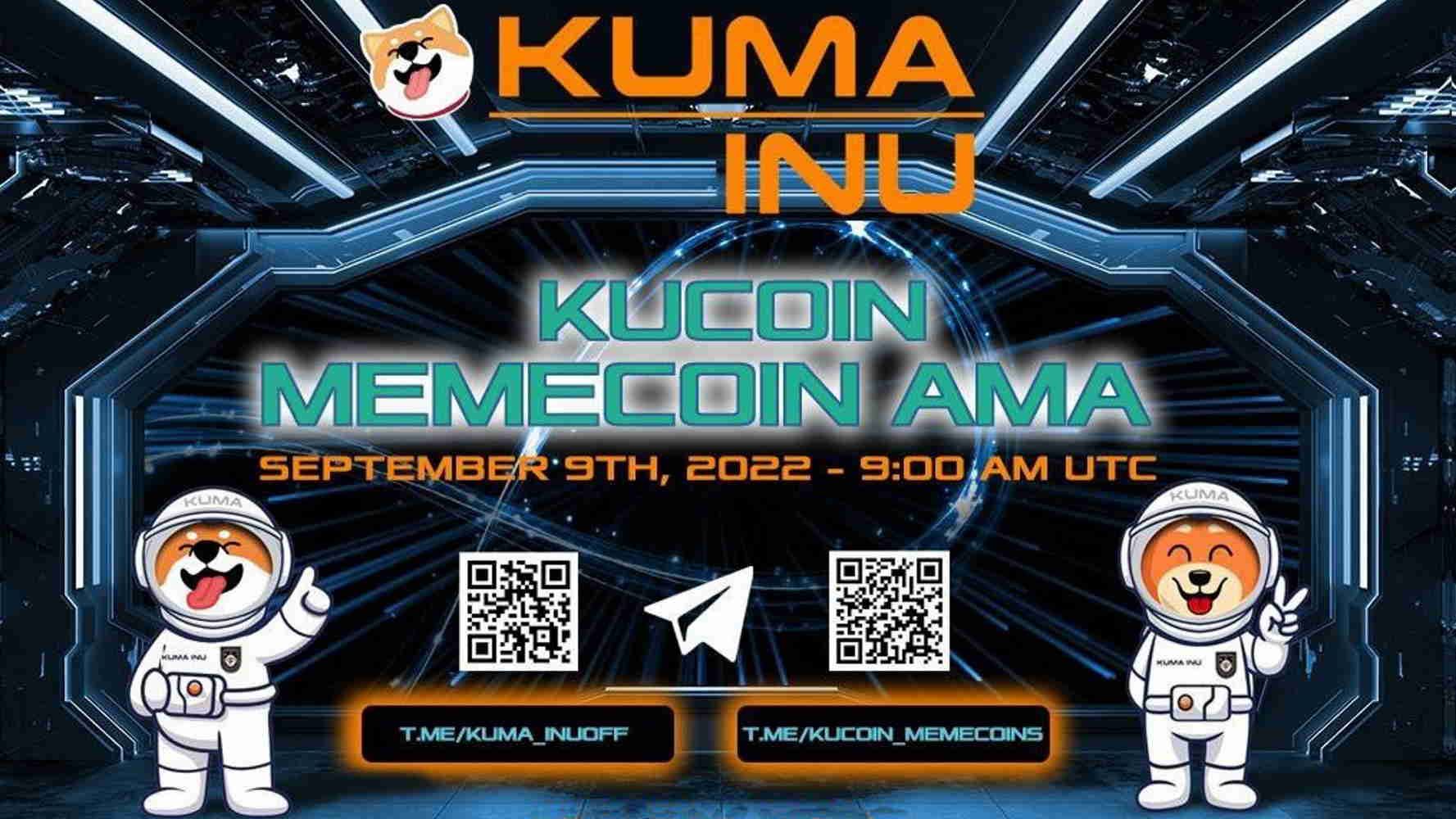 Luis:
Hello everyone!Welcome to the KuCoin AMA session in KuCoin Memecoins Group!I am Luis — Official KuCoin Musketeer from the KuCoin Community and your host for this AMA session.To be reminded of today's AMA giveaways, please do check the most recent pinned message.A total of 300 USDT are up for grabs, so make sure you pay attention to the AMA session and ask the questions you want to be answered!Thanks for joining the Memecoins KuCoin Telegram Group.Today, we are holding the KuCoin AMA session with Kuma INU in this group.Today, we will have, Meezy — CMO, KS — CEO/Lead Developer, K — Lead Developer — Kuma INU Project Team as our guests for this AMA session.Let's all virtual welcome Meezy — CMO, KS — CEO/Lead Developer, K — Lead Developer — Kuma INU Project TeamWelcome @capta1nkuma, @known_sir, @the_k_9 ! Please say hi to our AMA participants
Meezy Kuma kuma iei:
Hello everyone! It's a pleasure to be here and talk about Kuma Inu! Thank you Luis and KuCoin for such a great opportunity to spread the word about our favorite bear-dog!
KS ( WILL NOT DM FIRST ):
Hello everyone, it's a pleasure to be here as well !
K:
Hello everyone, so excited to be here today. We have a lot of great things to talk about!
Luis :
Welcome Guys 👋Could you give us a brief introduction about you and the Kuma INU Project and its applications?
Meezy Kuma kuma iei:
Kuma Inu is a 100% decentralized DeFi ecosystem built by the community, for the community. Kuma Inu was launched in May of 2021, and we are the first meme with utility. Some of our current and future products include: staking platforms, 25x short/long leverage DEX, Cross-chain Swap, NFT Marketplace and more.
Luis :
Wow, from what I can see we will have a very informative AMA today, let's go
Meezy Kuma kuma iei:
We are ready to go! Let's do it!
Luis :
Let's get right into it. What's the story with Kuma Inu? Can you catch everyone up to speed?
K:
Kuma was founded by a Shib/Leash developer. They burned $1m worth in liquidity and after that they left the project. They didn't tell anyone that they were leaving. The community spent months guessing if they had really left or they were working in the shadows. After a few months the old CM came back and pretended to be a new Dev hired by the founders. He got $20k from the community giving a false usecase for the money (was supposed to be for a Kucoin listing). After that he tried to steal from the community even further with a false migration. At this moment the community combined strengths, stood up, and took over the project, making the fraud CM leave the project for good. At this moment it was obvious that the project was abandoned. Thus the community team was created. We made a new roadmap, a new website and we have started working on revolutionary products.
Luis :
Seems to me like the project is in good hands then. Could you tell us what is Kuma Inu's vision for the future?
KS ( WILL NOT DM FIRST ):
Decentralized DeFi ecosystem. The decentralized DeFi ecosystem is a package of dApps created to help people to manage and trade their assets. Made by the community for the community. They are built while taking into account what is better for everyone and not just a few people. Doesn't have an owner. Community work is more important than individuals work. Kuma will always be Kuma no matter who is driving it at that time.
Luis :
Sounds like Kuma is unique. Who is behind the team now?
K:
We were investors for a long time and we have always been very passionate about the project. Some of us started working on Kuma before the takeover because we wanted to help. Once the takeover happened we didn't doubt any moment and we decided to drive Kuma to the right direction.
Luis :
Let's talk about the roadmap now. Without a doubt Kuma has had a lot of changes in the last year, will the OG roadmap still be achieved? What has been added?
KS ( WILL NOT DM FIRST ):
We will achieve the OG roadmap and we added some new products.
New products:
Kuma SwapX
dKuma Breeder
Product to be unveiled in the future
OG products:
NFT Marketplace
Kuma DEX
DAO
The next 2 products launched are going to allow us to close the Infinite Loop, which will allow holders to passively earn money infinitely. We have a countdown timer on the website for Kuma SwapX launch. We will proceed the same way once the dKuma Breeder is finished. NFT Marketplace is in the works and we will also proceed the same way. For the DEX we need funds and it will have to wait for next year.
Luis :
This is an impressive roadmap. I can't wait to find out what the secret product will be. But what intrigues me the most is the product you have launching September 24th. Could you tell us more about Kuma SwapX?
K:
Kuma SwapX will allow users to trade assets between 10 different chains and 6 of them will be fully usable at launch. And what's more important, you can trade any asset available in these chains. It will have just 0.3% fees on One Chain trades and 0.9% on Cross Chain trades. The fees will keep within the project so every trade is supporting the Kuma inu project and helps build and maintain the ecosystem. They are going to be used to provide the USDC rewards on dKuma Breeder, which will be launched in Q4 this year. If they are high enough they will also be used for marketing and development.
The Kuma SwapX is the first product built by the community team. We are very excited about it and can't wait for September 24th to launch it. You can see a live countdown timer on our website kuma-inu.com !
We have also prepared a trailer and we are going to publish it after the AMA. We hope you like it!
Luis :
Well we've reached the end of our first part of amaIn the second part of the AMA open to questions from the Community, our Guest will choose 5 questions to be answered, and those selected will receive 20 USDT as a prize totaling a total prize of 100 USDT.
Luis:
@capta1nkuma, @known_sir, @the_k_9, are you ready for the questions from the AMA participants?
Meezy Kuma kuma iei:
We're ready! Let's go!
Luis:
Alright, let's get right onto them. 👍
Bert Matney
— According to the roadmap, what is your most important next priority? #KUMA-AMA
KS ( WILL NOT DM FIRST ):
The Kuma SwapX is the first product to really give meaning to Kuma's DeFi ecosystem (first DeFi product)It's also the first product built by the community team, which will allow us to prove that decentralization works.They are going to give us revenue to build on the project (marketing and development)They will allow us to close the long-awaited infinite loop.
Jacque Mcdaniels
— #KUMA-AMA Regarding the current market situation is too unstable, to restrain investors. So can you give me some good reasons why I should buy your tokens in the current market situation? And also why should your token holders continue to hold?
K:
Kuma's DeFi ecosystem has a very solid plan to give investors passive income. We call it the Infinite Loop, and all our products take a part into this. The infinite loop consists on the following:1- Buy Kuma or other meme tokens on the Kuma SwapX2- Stake them in the Kuma breeder3- Earn dKuma4- Stake dKuma on the dKuma Breeder5- Earn USDC6- Claim your USDC and repeat
Bronwyn Streeter
— When will your tokens be listed on the exchange and which exchanges do you plan to list on in the future? #KUMA-AMA
KS ( WILL NOT DM FIRST ):
We have already submitted some listing applications for some well known exchanges. We've been contacted by some big name exchanges as well. We've even signed an agreement and are waiting to raise funds to provide a security deposit for a top exchange. We've also been in talks with some incubators to explore potential synergy. We will also be able to raise funds from our products so buckle up.
Dickerson
— #KUMA-AMA Where I can get the latest updates or more information about the project? @capta1nkuma @known_sir @the_k_9
KS ( WILL NOT DM FIRST ):
Check the Offical Kuma Inu telegram, Twitter, Medium and website for all important updates.Telegram —
https://t.me/Kuma_InuOff
Twitter —
https://twitter.com/OfficialKumaInu
Website —
https://www.kuma-inu.com
Beckie Malcolm
— #KUMA-AMA What is the most ambitious goal of your project? Could share with us any Upcoming Updates? @capta1nkuma @known_sir @the_k_9
K:
Our most ambitious goal is to lead the DeFi market. For that we are building the perfect ecosystem and the main product will be the Kuma Dex, which will allow users to leverage trade memecoins up to 25x and the fees are going to be redistributed to the governance holders and it will also benefit the meme community. As we all know it's a top product and it will require a lot of work. And for that, of course, we need funds, which will be generated with the rest of the ecosystem.
Luis:
That's it for our AMA guests. Let's give a round of applause @capta1nkuma, @known_sir, @the_k_9 👏👏👏It has been a great experience to have you as our guest for this KuCoin AMA session in this Telegram Group of KuCoin. Thank you for gracing this event.Is there anything else you would like to share or you want us to know, @capta1nkuma, @known_sir, @the_k_9
Meezy Kuma kuma iei:
Check out our Twitter (OfficialKumaInu) after the AMA for the Kuma SwapX Trailer! Remember the launch will be September 24th and Kuma Inu is here for the long haul! Thanks everyone for tuning in and thanks again to Luis and KuCoin! We are big fans of KuCoin over here so this was a true honor.
K:
Thank you for hosting us. It has been a pleasure!
KS ( WILL NOT DM FIRST ):
It was a pleasure, thank you
@Carlos_morgado
, Kucoin and Kuma community !
Luis :
You're welcome guys 🥰Many thanks to everyone for joining today's AMA session in this venueThat ends the KuCoin AMA with KuCoin Memecoins Group