Discover Cactus Exchange Ecosystem
Cactus Exchange is a decentralized exchange platform built on the Binance Smart Chain (BSC) blockchain.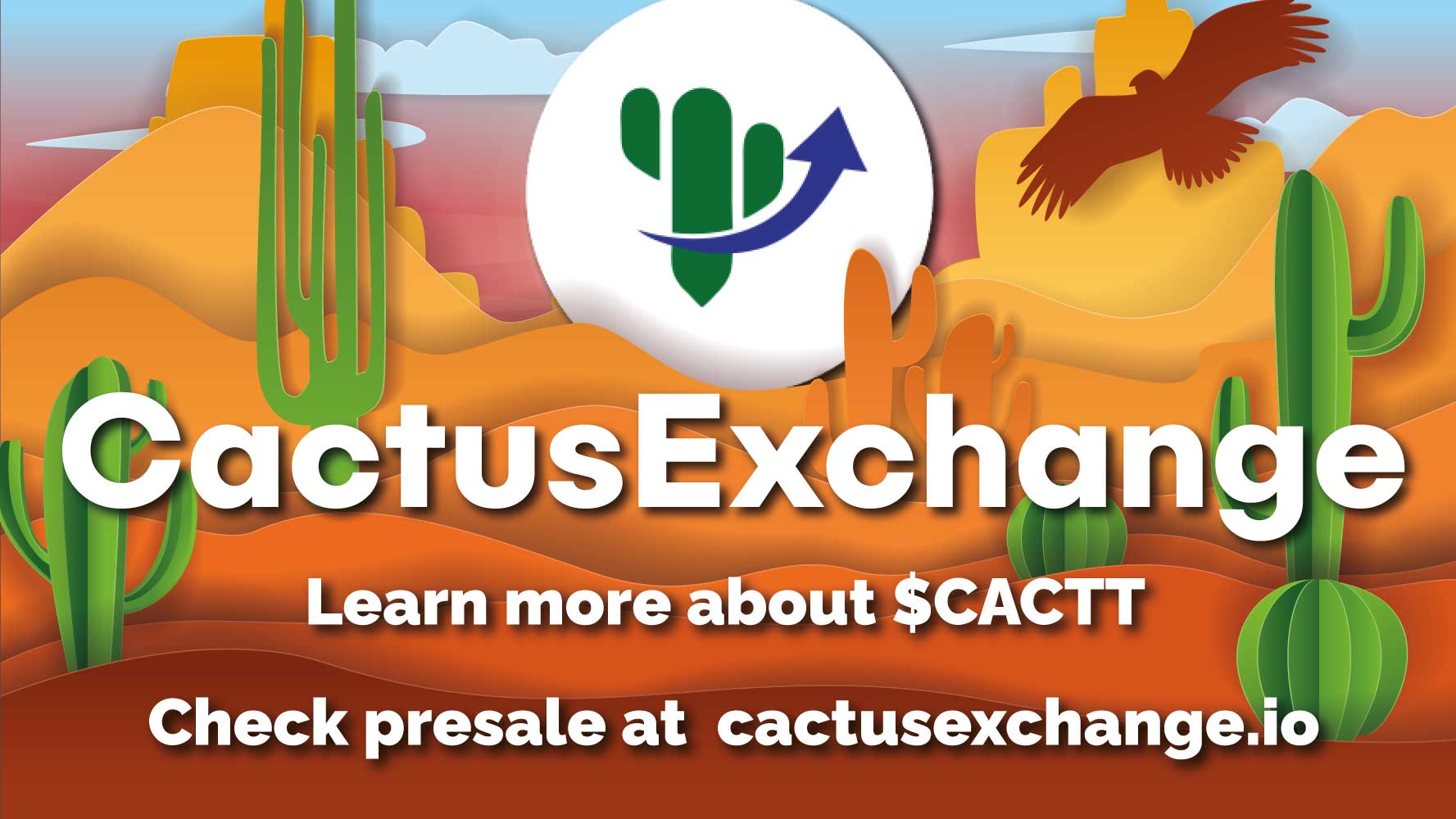 Cactus Exchange
is a decentralized exchange platform built on the Binance Smart Chain (BSC) blockchain.
Our developers work hard every day, creating a new unique platform to bring the possibility to trade, stake and earn tokens on the BSC chain, like never before!
Our users will be able to trade tokens and also earn rewards from staking, farming, and play-to-earn gaming.
At Cactus Finance we love to take care of and reward each other, that's why we decided to implement a unique referral system with an advanced structure for our Users.
Opinion of our community is extremely important for us, that's why we have decided that CACTT holders will be able to participate in the process of making decisions in Cactus Exchange.
Cactus Exchange is built on the BNB network, which provides quick, and cheap transactions due to low gas fees. It is also Cross-chain, and EVM-Compatible, allowing us to discover and deliver a lot of new features in the future!
The credibility of Binance, one of the most popular cryptocurrency exchanges is also shared with the BNB chain! There are a lot of tokens built on the BNB chain and with Cactus Exchange users will have a chance to trade a majority of them!
Unlike centralized exchanges, Cactus Exchange will not store your funds during using of the platform. All the Tokens are stored in your wallet, giving you maximal security.


About Cactus Exchange
CactusSwap is a type of DEX known as an automated market maker (AMM). This essentially means that there are no order books, bid/ask system or limit/market orders. Instead, users trading on the platform automatically draws liquidity from one or more liquidity pools, which then rebalance after the trade is complete.
This model has many advantages including anonymity and P2P transactions.
A small transaction fee of 0.5% is charged per transaction on the swap. 0.2% is sent to the treasury wallet and 0.17% is sent to liquidity pools.


CACTUS TOKEN (CACTT)
The CACTT token is a utility token used to provide liquidity, stake, and farm, participate in the lottery, and play games on the Cactus platform.
The CACTT token has a total supply of 120,000,000 CACTT tokens
CACTT tokens will be also used to facilitate the decentralized governance of the protocol. By holding CACTT Token, users gain voting rights proportional to their holdings.
To maintain the price of the Cactus Token team is planning to Constantly buy back tokens from the market and burn them to reduce circulating supply and increase the value of CACTT.
10% of tokens used in our lottery system be will used buy and burn.
Our dev will continue working to implement new features to get the most use out of your $CACTT Tokens!
Our Referral system
Backed by a strong community, Cactus Exchange has developed a strong reward networking structure. This structure builds the community and enables the growth of the Cactus token (CACTT).
Referral rewards come from percentages gotten from the amount staked by each referral down to their 3rd generation of referrals. This means users can earn on the referral of their referral.
Cactus Exchange hopes to create high liquidity on its swap by using a network marketing structure that highly rewards farming and staking for users.
The referral program is one of many ways which we are going to follow in order to invite users more users to the Cactus Ecosystem.
By using a referral system way community members can connect two things. Promote the platform and earn even more by just inviting their friends to use the platform
Lottery
Our users may easily take part in the lottery system we are preparing. Cactus Exchange lotteries are Fun and exciting, and bring you instant payments to your wallet!
Buying lottery tickets is easy, you just need some CACTT prepared in your wallet.
With our lottery system, we are going to bring some fun to our users, giving them the possibility to win $CACTT tokens!
The funds gotten from ticket sales go into the prize pools and rewards are broken down in the following format;
- 70% goes to winners
- 10% goes to all participants in that round
- 10% goes to the treasury
- 10% burn
P2E GAMES
Cactus Exchange plans to implement play-to earn games, which are extremely popular on the market now. Our users will have the possibility
to play and earn CACTT Tokens!
All Game transactions will take place on the blockchain, providing maximum security and transparency to the users!
We are planning to offer uniqueness in this area allowing users to play avatars games, build virtual worlds, and collect rare, high, valuable NFT to sell on our marketplace.
Governance
We value the opinion of the community, so we give CACTT holders the possibility to participate in the process of making decisions in our Ecosystem.
All the Governance processes will be realised on-chain, and every token holder will have the same rights depending on the amount of CACTT in the wallet. Holding more tokens will have a bigger influence on decision making.
Collaborations and partnerships
Working with other #BSC projects is very important for Cactus Exchange, and we are actively looking for mutually beneficial partnerships with other projects in BNB space.
Presale
CACCT Presale is active and ends 11:00 UTC 31 May.
Presale available at
https://www.cactusexchange.io/launchpad
Links
Homepage:
https://www.cactusexchange.io/
Whitepaper:
https://www.cactusexchange.io/cactus-whitepaper.pdf
Twitter:
https://twitter.com/cactus_exchange
Telegram:
https://t.me/official_cactusexchange
Github:
https://github.com/CactusXchange
Bscscan:
https://bscscan.com/token/0x649a339B8FC3A8bA0A03255c00fDC5D969684074