Earn COR by referring people to become part of our reputation-based ecosystem
We are very happy to announce that we are launching our first Referral Event on May 3rd!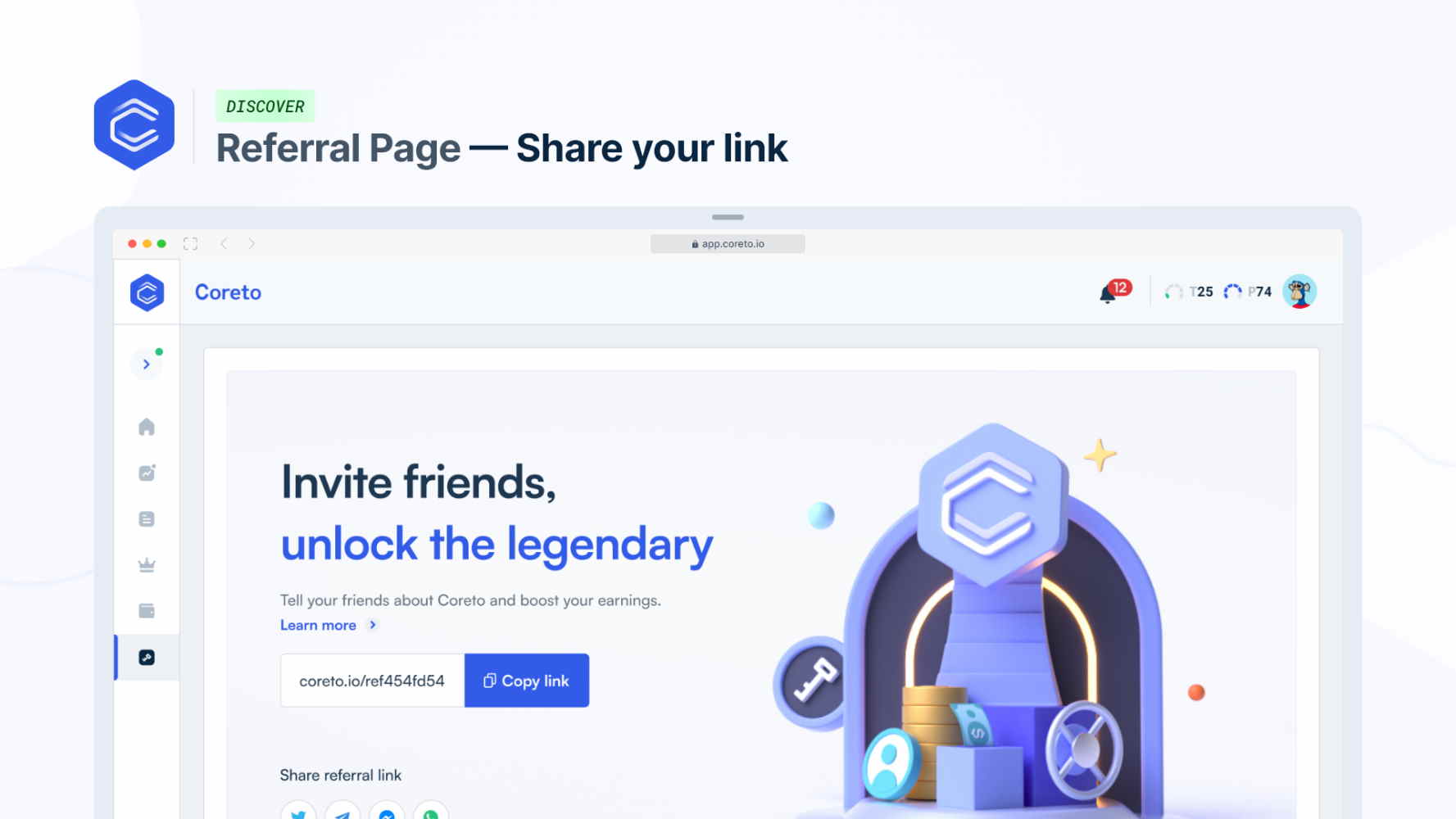 This is the point in our project's journey when we are opening up to the vast community of crypto content creators & investors and looking to reward our most active users. Even if you don't have a massive community behind you, we do encourage all participants as apart from the traditional ranking-based prizes, we also have wild cards to support the growth and give equal chances to win to all our community, no matter their current network of crypto fans or investors.
The rules are very simple, but if you have any questions, do not hesitate to contact us:
All users have access to a unique personal referral link that can be used to invite other users to register directly on the platform. All you have to do is copy your unique referral link from your profile and share it with your network via any digital format for that matter: email, messenger, social media, etc.
All new members will get automatic access to the platform and will be able to start collecting points instantly.
All users earn legendary (referral) points from referred users based on those users' activity on the platform. Please check the Activity List below.
All users can also earn up to a maximum of 100 points if they complete the tasks in the Activity List.
Users ONLY receive points from Direct Referrals. Important! No points are received from users referred by the users they referred – no chain referral points.
The "Unlock the Legendary" referral event will start on May 3rd, 8 AM UTC, and will close on July 3rd, 8 AM UTC. Users can collect points only between these dates. We are convinced that in 2 months you can collect all the necessary points to win one of the prizes at stake.
Once the end date/time is reached, the event leaderboard is locked, and the winners of the event are determined based on the points they have at the time of the event's end or the wildcard lottery.Coreto Referral Page
Now that you know what the basic mechanism of this referral program is, let's see how much each action you take (or your referral) is worth.
Coreto referral Activity list and points
10p – At first login
30p – Create 3 SOOPs (not challenges)
5p – Post one status (social post)
5p – Post 5 comments
10p – Follow 10 new users
20p – Write one article – 200 words
5p – Pledge to one SOOP created by another user
15p – Create one challenging SOOP
All your actions on the Coreto platform will be rewarded with tokens, not just points. So, the more points you collect, the higher your ranking will be.
Referral event prizes
Ranking prizes🥇 1st Place – $1500🥈2nd Place – $1000🥉3rd Place – $800
Wildcard prizes
Wildcard prize winners will be randomly selected from the users that complete their personal activity list (earn all 100 points available for personal activity), and have not won a ranking prize or another wildcard prize.
2 x $400
Will be awarded to people with at least one qualified referral. The referee must log in to the platform at least once and follow 10 users to become qualified.
2 x $350
Will be awarded to people who have no referrals but have completed all the personal tasks (they have collected 100 points).
Important!
Only one prize can be won by the same user.
Prizes are awarded in $COR Tokens, at the market value in the distribution day.
Coreto reserves the right to investigate participation in the "Unlock the Legendary" referral event to any fraudulent activity. These measures are at the discretion of Coreto, and may go as far as banning access to the platform.
Did you get your first COR yet? If not, check out our "How to Buy COR" guide.
We look forward to your participation in our first referral event and in case you have questions, then please let us know via email or Telegram. You can follow our latest updates on social media account and in our Telegram Community. Thank you for your continued support!