Aimedis' AIMX token enters into a sustainable partnership with CoinW Exchange!
Aimedis Lists AIMX Token on CoinW Exchange to Boost Liquidity and Advance Healthcare Blockchain Innovation.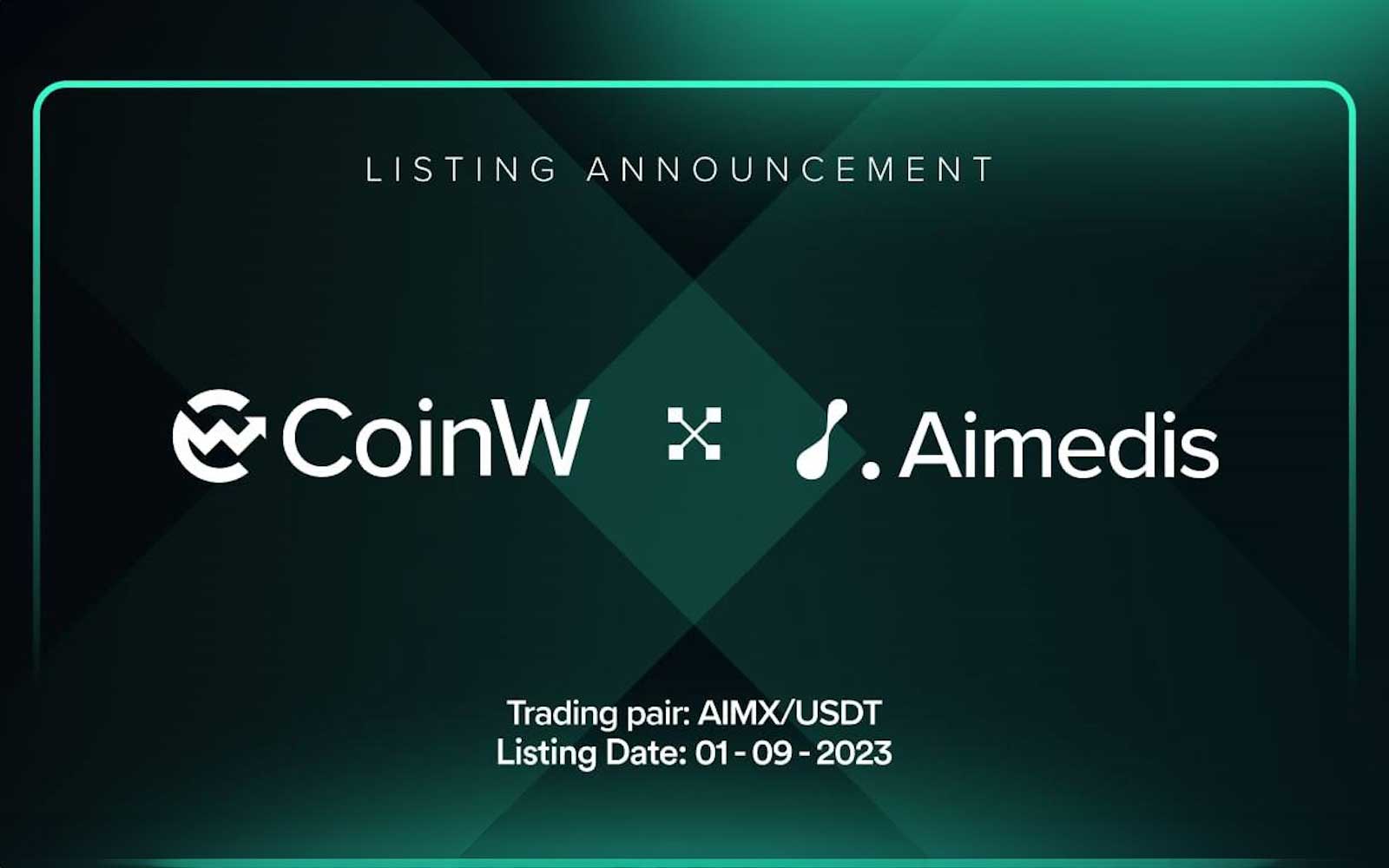 We are very excited to announce that we will be listing our token
$AIMX
on
CoinW Exchange
. This milestone not only underscores
Aimedis
' commitment to innovation, but also solidifies CoinW's reputation as an emerging company among the leading global cryptocurrency exchanges.We have thought about this step long and carefully, and we are convinced that we have made the right choice with CoinW. With this decision, we are now working with a strong partner, as it is essential for Aimedis to grow and increase the volumen und die liquidity unseres Tokens AIMX, as well as our community members.
CoinW is based in Hongkong, which was an important factor in our decision. Especially nowadays, it shows that the Asian market will be a major player in the crypto world in the coming years.
🗓 The launch will take place September 01, 2023📌


Here are the key points about CoinW:
➡️
CoinW Exchange's remarkable offering:
CoinW Exchange's position in the cryptocurrency exchange space is underscored by a number of notable features:➡️
Elevated rankings:
CoinW Exchange's position among the top 15 exchanges on CoinGecko demonstrates its commitment to quality and trust within the cryptocurrency community.➡️
Liquidity:
With an impressive liquidity pool of more than $15 billion, CoinW Exchange's commitment to providing seamless trading experiences cannot be overstated. This monumental liquidity ensures that traders can navigate the markets with ease.➡️
A Strengthened Community:
With a robust community of over 800,000 members, CoinW Exchange acts as a vibrant hub for knowledge sharing, dialogue and collaboration.➡️
Trading volume:
CoinW Exchange consistently achieves a remarkable daily trading volume of over $15 billion, positioning itself as a hub for proactive and engaged traders.➡️
A global footprint:
CoinW Exchange's appeal spans the globe, attracting an impressive user base of 9 million traders. With over 6 million active users per month, it is a go-to destination for those looking for dynamic trading opportunities.➡️
Collaboration:
As part of a collaboration, CoinW Exchange has pledged extensive marketing, social media and community development support to Aimedis.The listing of the AIMX token on CoinW Exchange marks a new era for the Aimedis community. AIMX token holders will benefit from increased liquidity, diversified trading opportunities, and access to CoinW Exchange's large user base. This partnership will amplify the impact of AIMX tokens while advancing Aimedis' mission to revolutionize healthcare through blockchain innovation.For a deeper understanding of CoinW's support for Aimedis and the AIMX token, we encourage you to follow
CoinW
and
Aimedis'
social media channels. Stay tuned for updates, social media airdrops and campaigns where you can win great rewards.About Aimedis:Aimedis is a cutting-edge digital healthcare platform leveraging blockchain technology and AI to streamline medical data management and patient care. Aimedis Avalon is the world's first healthcare metaverse, revolutionizing patient engagement and medical education through immersive virtual experiences. This groundbreaking ecosystem connects healthcare providers, patients, and researchers, fostering collaboration and innovation while ensuring privacy and security through blockchain-backed data management.👉
Website
👉
Twitter
👉
Telegram